FANS DON'T CUT IT
by Sean
Please note: MP3s are only kept online for a short time, and if this entry is from more than a couple of weeks ago, the music probably won't be available to download any more.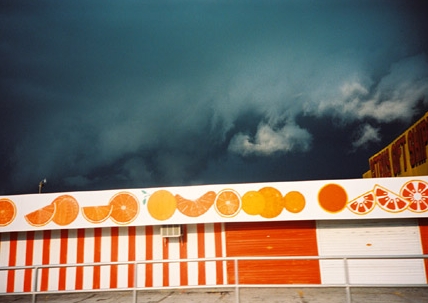 Low - "Breaker (Daytrotter session)". Low are on vacation, somewhere very hot and dry. They were driving all day in the rusted-out van. They arrive at the hotel they booked weeks before, on a dry strip of yellow sand with the ocean just visible at the horizon. The building's made of white concrete. There's no one there to book them in, just a whiteboard in the lobby saying: LOW -- ROOM 310. They let themselves into 310. There isn't any furniture. They set up their instruments. Sweat's dripping down their arms and falling in drops when it reaches their wrists. They wish they had something cold to drink. They open the little window as wide as it will go and they pick up their guitar, bass, drum-sticks. They start to sing without even having warmed up. Alan and Mimi don't even look at each-other when their voices meet a little sharp. They're all just staring through the haze at the window, and beyond the window to that distant bar of sea. They sing the song with clenched fists and call the ocean closer, tide by tide.
Low - "Hatchet (Optimimi Version)". Later they go for a swim in the pool.
[buy Low's Drums & Guns, presently my fourth-favourite album of the year / check out the rest of the triumphant Daytrotter session / try to find the Hatchet 7"]
---
The first Concert a emporter video from last week's Blogotheque concert has the Kocani Orkestar playing their hearts out with Beirut's Zach Condon, thick in the throng of Parisians. If I was there I would have turned to leaves.
(photo above by Sara Padgett)
Posted by Sean at August 3, 2007 2:06 AM