Fax Your Grandparents.
Please note: MP3s are only kept online for a short time, and if this entry is from more than a couple of weeks ago, the music probably won't be available to download any more.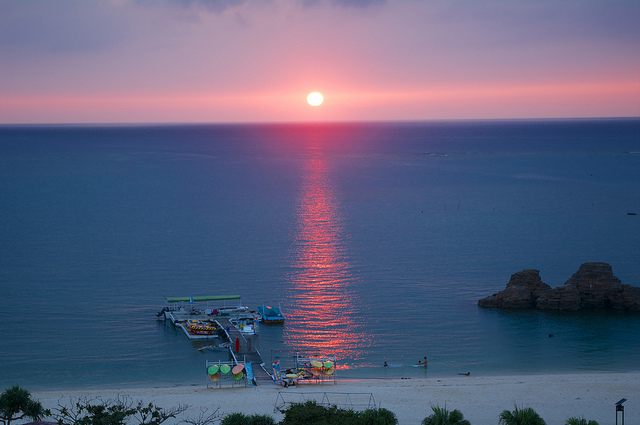 (
photo source
)
Nick Nicely - "on the beach(the ladder descends)" [Buy]
Summer. I was daydreaming in the elevator of my studio building. Just thinking about sunset on the beach and eating nice seafood or Okinawa Soba. My mom is from Okinawa which is an island in Southern Japan with warm weather all year round. One time I remember my cousin was wearing winter jacket in December on a day that it went down to 13 degrees Celsius but all I was wearing was a light cardigan and a Kurt Cobain t-shirt (I was a huge Nirvana fan, I relate to those "I miss you, Kurt" comments on YouTube. He understood me and I understood him. In my mind, we were on a first name-basis) I remember going to Okinawa in the summer time to visit my family. My grandparents both passed away on the same day a couple of years apart. My aunt said it was shortly after midnight that my grandma went to sleep forever. It was peaceful. When they passed away they were both close to 100 years old. They lived through two wars and so many new inventions like the telephone, TV, washing machine, Beta, VHS, DVDs, vinyl, cassettes, and CDs. Oh ya, and I forgot, laser-discs and mini-discs. Oh, also Fax machines. They still EXIST! some companies or government offices still ask me to fax stuff!
I will fax my grandparents in the afterlife and tell them that "my mom, my aunts, uncles, and my cousins miss them and love them." and also written,
"p.s. I miss you too, Kurt!"
Posted by Mitz at May 27, 2015 8:05 PM