FLESH AND BLOOD
Please note: MP3s are only kept online for a short time, and if this entry is from more than a couple of weeks ago, the music probably won't be available to download any more.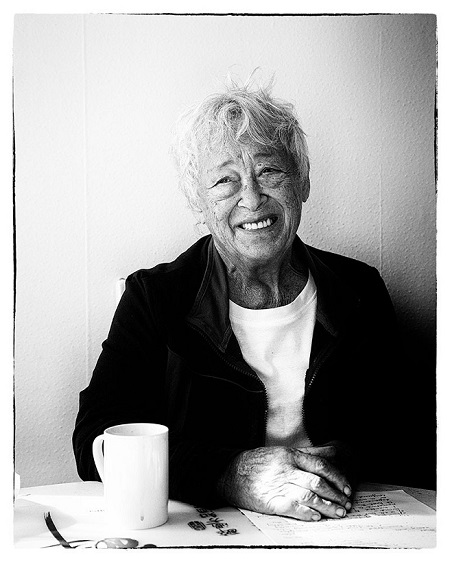 Poison Girls - "Crisis"
Poison Girls - "Persons Unknown"
Vi Subversa's voice is a vicious but versatile instrument. On the Poison Girls' debut 1979 album Hex she conveys anguish, anger, exhaustion, and gleeful mischief.
Throughout the record, Subversa skewers the hypocrisies of Britain in its first year under Margaret Thatcher. "Jump Mama Jump" slags off the nuclear family, showing how the unending work of motherhood keeps women trapped (and includes a recording of a vicious child cursing out their mother). "Under the Doctor" confronts the horrors of mental illness head on, criticizing the indifference of the medical establishment. The sound of boots marching in lockstep at the beginning of "Crisis" ties the military state to the domestic sphere. Over pounding bass and spidery guitars, Subversa's lyrics brought the war home, connecting it to domestic abuse and consumerism. The repetitive chorus "Normal, normal / Crisis, crisis," cuts right to the uncertainty at the heart of everyday life.
On the seven minute long single "Persons Unknown," released by Crass Records in 1980, Subversa's voice is less anguished, but calm and clear-sighted. In one epic verse she presents a panoramic view of England at the end of the 1970s including "Accountants in nylon shirts," "anarchists and dissidents," "smokers with heart disease, cleaners of the lavatories." After offering a long list of social types, members of various classes, professions, religious and political affiliations, Subversa equalizes them all, singing "Flesh and blood is who we are." All difference is superficial, Subversa told us. All we ever are is what was given to us by our mothers: flesh and blood.
Vi Subversa (born Frances Sokolov) passed away last week at the age of 80. She was over 40 and a mother of two when she started her band in 1979, possessing a voice that refused to be silenced, the voice of a woman who had seen enough and wasn't going to take any shit. Her voice was sharp and fierce, unable to tell a lie. You can see an amazing video of her singing "Old Tart" last year in Brighton here. Rest in power.
[buy]
(image source unknown)

Posted by Jeff at February 23, 2016 4:23 PM