FME: FESTIVAL DE MUSIQUE EMERGENTE
by Sean
Please note: MP3s are only kept online for a short time, and if this entry is from more than a couple of weeks ago, the music probably won't be available to download any more.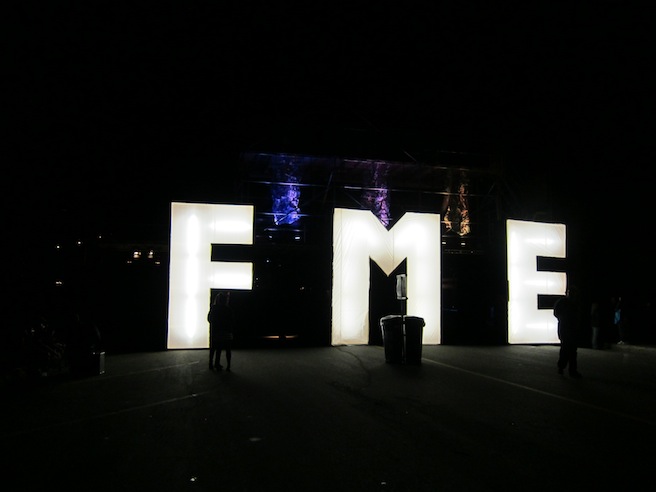 Les Soeurs Boulay - "Lola en Confiture" [bandcamp]
Avec pas d'casque - "La journée qui s'en vient est flambant neuve" [bandcamp]
I drove to Rouyn-Noranda. No, I didn't drive; they drove. I was a passenger. A giant Jean-Legaré rental van, loaded up in the early AM, then out onto the road, where there were solemn lampposts and jerking jeeps, a gang of us passengers and one fine driver. You could tell he was fine because he wore glasses only when he was behind the wheel. It gives him the affect of a chauffeur-professor. This is something you can rely on.
Rouyn-Noranda is almost eight hours northwest of Montreal, in a part of Quebec called Abitibi-Témiscamingue. To get there you drive through miles of pine forest and barbell-shaped lakes, past weird factories and half-mowed lots. You have to stop for lunch at Grand Remous because there is nowhere else to eat in the five hours between there and Rouyn-Noranda, unless you stop at D-----, and those who have been before to the Festival de Musique Émergente know that you should not eat at the place in D-----.
Nobody calls the Festival de Musique Émergente "the Festival de Musique Émergente". They do not call it "the festival of emergant music" either. This is backwoods Quebec, this is Abitibi-Témiscamingue. They call it "le FME". Le-FME, said quick, like it's "L'EFME". Like it's "l'oeuf M.E.," which could be the name of a local breakfast diner. In Rouyn-Noranda, as in every place, breakfast menus are filled with puns about eggs, les oeufs, and also with every possible permutation of egg, pancake, french toast, bacon, ham and sausage.
Rouyn-Noranda is a copper town. They built it in the 1930s, Hazel told me. I think the conversation went like this: We found copper. Better build a town. Really they built two town, Rouyn and Noranda, that have now been smelted together. This is a city of cement and lakes, with wide shopping streets and young churches, winding residential roads that are very dark, at night, and feel somehow like the American south. At the top of the city is a vast refinery, a plant of billowing turrets and clanging machinery, and because most of Rouyn-Noranda works there the clanging and billowing is quietly ignored, passed-by, like the goliath in the kitchen that you keep tiptoeing past.
I had hoped that the locals of Rouyn-Noranda would show their metallic affiliation in some way: wearing copper bangles, copper belt-buckles, copper eyeglass-frames or perhaps copper shoes. They did not do this. The locals of Rouyn-Noranda looked, more or less, like the locals of any Quebecois small town. Among the girls who worked at my hotel, there seemed to be a fashion for feather earrings. Mostly I found the people were just notable for their kindness. They were so friendly, so kind, even moreso than at the other small festivals I have attended - Dawson City, SappyFest, the Home Game in Anstruther. After we rolled into town in our Jean Légaré van, spilled out with empty Gatorade bottles and granola-bar-wrappers, I borrowed a bicycle from Rouyn-Noranda's free bicycle shack. I also borrowed a helmet and a little lock. Anyone could break the lock and steal my bike; no one did. One night my swinging hoodie got caught in the bicycle and I skidded to a halt and within five seconds a young woman was kneeling beside me, trying to prise it free. These are not examples of exceptional kindness, superlative friendliness. But they mean something small: that no one stole my bike, that the woman stuck her tiny fingers into the knitted gritty chain.
In Quebec, le FME is an institution. Now celebrating its tenth anniversary - just a little younger than Pop Montreal - it is principally a showcase for francophone music from Québec, with a little bit of francophone music from abroad, and some English-speaking Canadian acts. For the average maudit hipster anglais from Montreal the familiar acts at FME 2012 were: Godspeed You! Black Emperor, Feist, Timber Timbre and Plants & Animals. Those are four bands. Even for those like me, who try to keep an ear open to what's going on in the other solitude, le FME is a festival of discovery. Quebec has an incredible domestic music industry - its own tour network and star system, proportionately much healthier than anywhere else in Canada. Hit albums are made, sold, exported, without receiving any notice from English Canada. Here, dozens of European bookers and label reps were flown in to check out the talent. And a handful of anglo journalists, mostly from Ontario and the UK, curious and frequently intoxicated, wandering from show to show and often without much of a sense of what they were about to hear.
The festival was much bigger than I expected: twice the audience of Sappy, although maybe half the number of performers. There is a large outdoor stage, a few co-opted taverns, and a couple of mid-size concert halls. A Subway, a Tim Hortons, two Chinese buffets. A 24-hour diner, La Morasse (The Swamp), advertising (erroneously) "the best poutine in the world". On that first night I passed through the gigantic glowing F, M & E, at the entrance to the outdoor stage, and gawped at all the people: Look at them all. I thought. They were drinking Boréale beer from plastic mugs. The log-cabin bar also sold oysters and pulled-pork sandwiches. The throngs were there to see a woman I did not recognize: she had an acoustic guitar and a cheery yowl. With a crack band she played clompy country-folk, then an abysmal, embarrassing classic rock cover. I nudged a friend; "Who is this?" Lisa LeBlanc they told me, 22 years old. She is a huge star, her debut has just gone gold. The Rosaireville Taylor Swift, I guess. She seemed nice. I was bored. I wandered off.
The weekend was full of wanderings off. In a funny way this is always the pleasure of a festival: much more than with an ordinary concert, you can cut & run & go searching for something else. On that Thursday night I saw middling sets by the melancholy pop-band Half Moon Run, and then my beloved Acadian rappers Radio Radio, whose show had some of the froth and none of the fizz of their best recorded work. Timber Timbre were as they ever are: spooky, tasteful, dulled, exciting, somehow derivative of themselves. As soon as a song starts I am waiting for it to end, looking forward to the beginning of the next song, that subtle changing. Later in the weekend I cut and run from shows by Fanny Bloom and Kandle, because they were terrible; from Ladylike Lily, Marie-Pierre Arthur, and Louis-Jean Cormier, because they were competent but lustreless; from Jean-Pierre Ferland, the 10th anniversary headliner, who performed from a stage that floated upon a lake, because I did not know any of his songs. Thousands poured in for that free gig, with collapsible chairs, taking in the schmaltzy sounds & schmaltzy sunset. Ferland, one of Quebec's great chansonniers, is 78. He was small, charismatic, professional, in a captain's jacket. His band played charismatic, professional soft rock - music, if you catch my drift, that should have unmoored from the stage and glided away on a yacht.
On the other hand, I did not wander off from les Soeurs Boulay. I stood in a swletering sauna of a room and peered between shoulders to see two girls sharing a single microphone, grimacing at the strength of their drinks, singing harmonies like two strong winds. At first this sort of old-fashioned music seems all about the singing: just the angles that two voices can fall against each-other, recalling Gaspesien coastline, Scottish glen, Appalachian hill-top. But les Soeurs Boulay are doing more than pretty pastiche - they are writing songs, earnest songs, young as raspberries. The music is romantic, wistful, heart-on-sleeve, full of references to email and the Montreal subway - and this is exactly what it should be, from two 20-somethings who share a microphone and sing like winds. Standing in Rouyn-Noranda's Trèfle Noire, "Mappemonde" was sad & sappy & also the best unrequited-love-song that I have heard in, well... a very long time. This soft stuff is as necessary as laundry on a line. (The Boylays were also stupefyingly charismatic - hilarious, mischievous, confident. I would have colluded with them for hours.)
Another discovery was Julien Sagot, Karkwa's keyboardist, whose set was one-third excellent. While Sagot's record had left me cold, there was a stubborn weirdness to some of what he did at le Paramount. He mumbled, undersang, tossed away lines of terse impressionism. The band around him let-fly psychedelic splendours. When it got too jammy it was like a boring Pink Floyd; when it clicked it was like an opiate Serge Gainsbourg. I also liked Bernard Adamus, whose gravelly shout is all ersatz Tom Waitz. And yet backed by his fierce brass band, Adamus had a little Jon Spencer in him, too. For a little while, at least, it was thrilling.
Feist played an extraordinary main-stage set, feral and technicolour, transforming songs from her last three records. She swung at her electric guitar, playing scorching solos, with a band that could have laid a forest fire or launched a flying saucer. Whereas "Mushaboom" became an spacey, almost tropical jam, "My Moon My Man" exploded with vicious energy, lust & destruction, so unfaithful in sound. I have long felt that Leslie Feist is underrated, among critics: her albums are much messier than her reputation, or her acoustic radio sessions, suggest. Fuck a tour where she sings pretty numbers with the girls from Mountain Man: give me this drangin' stürm.
Plants and Animals were also fiercer than expected. It was as if the rockers' nerves had frayed; it made me like their music more. The same sinning songs of late-night toss & turn - but the energy was sharp, tense. Partly because it was past one in the morning. The band didn't crack any real smiles. They just pounded their fists against their strings, cast a pall, clanged. Not angry but stern, disappointed, fooled once & not again.
The best set of the weekend was a show I saw twice: Avec pas d'casque, playing 5 à 7 in a little club. On both afternoons I duly lined up, squeezed in, solo, to see one of the best bands in Canada - and the best French band I know. Strange, clomping folk music - circular songs, with wheeling verses, streaked in unexpected colours. Recalling Smog, Bonnie "Prince" Billy, Animal Collective, and also, in lyricism, the Silver Jews. Singer Stéphane Lafleur shot slings of desire and resignation, persistence and wrath, with each line clad in dream. We hung on every word: I watched listeners mouth along with the lyrics, or shout them, in noisy choruses, and when the music was in danger of staying too close to the ground the bandmembers picked up kazoos, or yelled wordless refrains, reminding us that their songs are not precious little cameos: they are space gardens, rhinestone bouquets, the weirdest Jarmusch moments. (And always full of elastic quebecois slang: the most beautiful language in the world.)
Yet still it was the set by Godspeed You! Black Emperor that would be at the centre of the weekend. How could it not be? It was as if a small-god had come into town: an old, wise secret, clad in black. They played at midnight. By their standards, it was a tiny show, around 300 people, in a converted church whose spire had grown FME antlers. All weekend, the talk of Godspeed: Do you have a ticket? Do you have a ticket? Like a comet was coming through; you see it or you don't. So it was beautiful when Godspeed took the stage as they always do, in darkness, coming in one by one, some of them from the crowd, just passing through with bowed heads, and you remember these are just working musicians, labourers, who will pick up mallets and sticks and electric machines, and that is all.
There was a thrum in the crowd and when Godspeed began to play the thrum became larger, lower, stormcloud coming in. Projected film flickered to life behind them. Noise. There were images of line & paper, that old message HOPE, a refinery whipped by coppery winds. I looked away and down and closed my eyes. It was very late at night and darkness was creeping in, from the corners and from the floor. Roaring feedback swept and cleared my mind. A violin traced sparking shapes. I closed my eyes and fell asleep and woke and the room was filled with smoke, this music so patient and infinitely strong. I looked at the stage and there was it was like a creature was resting there, crouched, vast and living, black as ash, with folded wings. They say giants liver under hills, and dragons in caverns, and bands in rolling Nightliners.
The next morning we had eggs and toast and I bought a little jar of wild spruce shoots, which I would bring home, with other things.
Posted by Sean at September 9, 2012 12:33 PM