FORESTS OF ALMOND AND PINE
by Sean
Please note: MP3s are only kept online for a short time, and if this entry is from more than a couple of weeks ago, the music probably won't be available to download any more.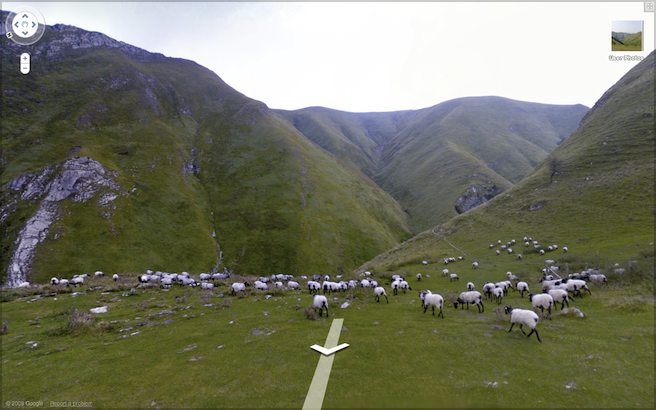 Jerusalem In My Heart - "3andalib Al-Furat".
You can mean it in many different ways. You can write your heart down, try to write it exactly, then try to sing those words in the clearest way. You can sing not plainly but fiercely, coloured instead of clear. You can perform "meaning it", oversinging or undersinging, conveying a convention for sincerity. Sometimes the meaning is cerebral, not emotional: you decide an idea, manifest it in a work. And sometimes meaning it is much more simple: you simply tell, and try not to tell a lie.
As Jerusalem In My Heart, Radwan Ghazi Moumneh sometimes means it more and sometimes means it less. Sometimes the project is pure theatre - as when he fliered Montreal's Mile End with arabic posters, depicting himself and a kalashnikov. Sometimes it's improvisation - music invented in the morning and performed (with attention, conviction, enormous talent) in the evening. Sometimes he hosts a funky theremin-kissed Beirut freakout; other times it's a dozen shirtless men banging drums beneath a decapitation.
Mo7it Al-Mo7it, JIMH's Constellation debut, contains a few kinds of meaning. Moumneh, who grew up in Montreal and speaks fluent English, sings exclusively in Arabic. Most of his listeners will not understand his words - like me, able only to infer, listening to the tone of his vowels, the hardness of his consonants. The album and song titles are even more conceptual than that: he uses latin characters, but represents the abjad in IM Arabic. On an album of buzuq and birdcalls, this is like a banner reading 21ST CENTURY, siting JIMH in the present; the same is expressed with synths, reverb and distortion, processing that connects Moumneh's work with Omar Souleyman or even Fever Ray. (Listen to the splendid, electro-spectral "Yudaghdegh el-ra3ey wala al-ghanam".) Moumneh is not ignorant of these siblings: he has engineered/produced records for everyone from Suuns to Tim Hecker to Handsome Furs.
But in other places, Jerusalem In My Heart mean things more directly, without the screen of a governing idea. The closing track, "Amanem", is cavernous and terrible: a wreck, a reverberating plea. As Moumneh hammers his instrument, asking & asking, I imagine the murder in the cathedral, a mosaic or stained glass. This anguish is a beautiful, awful blues.
"3andalib Al-Furat", which I share here, is "Amanem"'s opposite. No vocals - just harp and acoustic buzuq, the whisper of a nightingale. It is a respite, a moment of peace. It is pause; you stop for a while, under sky and branches, and imagine if you could really stay there. Jerusalem In My Heart is more than one person, now; throughout this album, Moumneh plays with Jérémie Regnier, and the visual artist Malena Szlam Salazar is also listed as a member. Dina Cindric Sarah Pagé plays harp. Implicit in "3andalib Al-Furat", I feel the solace of friends, the strength of quiet solidarity. A nightingale in the trees, and other nightingales, and there need be no pact. Your brothers and sisters know what you mean.
[buy Mo7it Al-Mo7it / Jerusalem In My Heart play in Montreal on Friday]
Posted by Sean at March 11, 2013 12:51 PM