Form and Freeform
Please note: MP3s are only kept online for a short time, and if this entry is from more than a couple of weeks ago, the music probably won't be available to download any more.
The Barbaras - "Day at the Shrine"
Lovely and sunny and crackling clappy happy stuff, until it leaves you and you realize it was sung by ghosts. A "day at the shrine" is actually a day in prison for ghosts, they can't go anywhere else. Oh, hell, is this actually a torturous dirge for ghosts? What strange languages the spirit world speaks! What lo-fi tears! [Buy from Goner]
--
Elsewhere: I'm posting The Barbaras today because today is the day to pledge for WFMU during The Best Show on WFMU.
Concisely, WFMU is a listener-funded station that is in increasing danger of running out of money due to the fact that most people are running out of money.
Conversely, people are always and will always be willing to support something worthwhile, and WFMU is very worthwhile.
Consequently, I am making you aware, again, of their presence, and also of my favourite radio show in the world: The Best Show on WFMU.
I have written about Best Show before (&), it was Matthew who first introduced me to it, it's a huge whole landscape of all the best, worst, funniest, most touching, most insane parts of talk radio, and it's well worth listening to, and by necessity pledging money, to support its continuation.
Here is a sample from one of the shows, I couldn't possibly explain all the different facets of the show, it's taken me three years to feel like I have a handle on most of the elements, but hopefully this incredibly charming story of a family trip to Penn State will be an enticing taste.
Tom Scharpling hosts The Best Show on WFMU - "The Joe Paterno Story"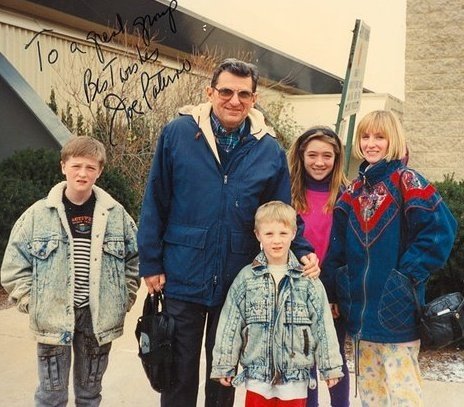 How this relates: Pledging to The Best Show, tonight between 8-11pm EST, with a pledge of 75$ or more gets a prize pack unrivaled. Unique and original comedy from Tom Scharpling & Jon Wurster, the team behind Best Show, an originally-recorded various-artists COVER VERSION OF PAUL & LINDA McCARTNEY'S RAM (the whole album covered by Death Cab, Ted Leo, Aimee Mann, Portastatic, The Barbaras and many more) and a whole slew of swag. The two recordings, the comedy and the covers record, will become OUT OF PRINT as soon as the fundraising marathon is over.
[Pledge at WFMU.org tonight at 8PM]
[detailed prize pack info]
[podcast] (Best Show Gems is for the beginner, try it out!)
[archives]
[5 albums of material from the show]
and a bonus for reading this far.
Posted by Dan at March 3, 2009 4:06 PM