Freckled Deity
Please note: MP3s are only kept online for a short time, and if this entry is from more than a couple of weeks ago, the music probably won't be available to download any more.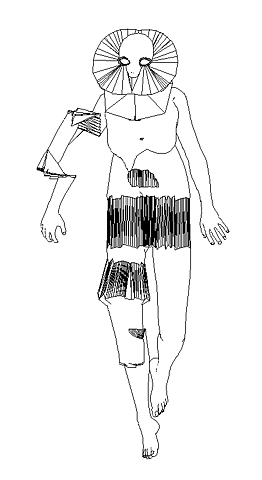 Thee Oh Sees - "Corrupted Coffin"
In the cold storage cellar of a mansion in the Catskills, a letter was found in the distinctive hand of legendary disc jockey Wolfman Jack. His large, swooping bottom curves and his upright, almost teetering long-risers were indicative of his script but could have been easily forged. It was the subtle cinching of his bridled consonants and the jaunty squiggle on his capital H's that truly sealed the decision that the letter was indeed from Mr. Jack to his then-girlfriend Melissa (who Jack referred to as 'Wolfwoman'). And it is with a great deal of pride stirred primly with a modicum of dread that I present to you today the letter in its entirety, for better or for worse.
Dearest Wolfwoman,

I hope you fine lookin thing you are alright tonight. I hope you are afeelin fine and you are afeelin great. I hope those fine young thighs are creamy as ever, I hope those luscious lips are as tasty as ever, I hope you are ahoppin and aboppin all over this fine city at night tonight. I hope youre nothing like me tonight. Because you see, Wolfwoman, I am in the pits tonight. How do I say this without sounding completely crazy? Without you awalkin out on me and never ever ever lookin back? But I just got to say it, fine lady, if we are ever to be married by a preacher in a chapel. If we are ever to swear our burnin love to each other for all time and all the rest of our lives to each other, I just have to tell ya. And there's no way to tell ya better than just havin out with it because I need to. I am a real werewolf. That is to say, sweet pretty young thing, on certain nights I become a werewolf, in body and mind. My back arches like the arch under which we'll be wed, my teeth grow like my love grows for you, my eyes go yellow like the headlights of a 57 chevy. Cherry chrome. I love you, Wolfwoman, and please don't hate your man for what he's told you. I've killed. I'll kill again. But I'm sorry, and I have some methods of control. But I need you to trust me, and I need you to love me whatever the cost. And let's stay cool, little kitten, cause youre my best girl and I know I'd just flip my lid if you said you'd never stay.

All my lovin, Jack.
[ink drawing of slash marks as a kind of signature]
Kids on a Crime Spree - "I Don't Want to Call You Baby, Baby"
[Buy Castlemania]
[Pre-Order We Love You So Bad]
(image via Françoise Gamma)
Posted by Dan at May 11, 2011 12:02 AM