GATEWAZE
by Sean
Please note: MP3s are only kept online for a short time, and if this entry is from more than a couple of weeks ago, the music probably won't be available to download any more.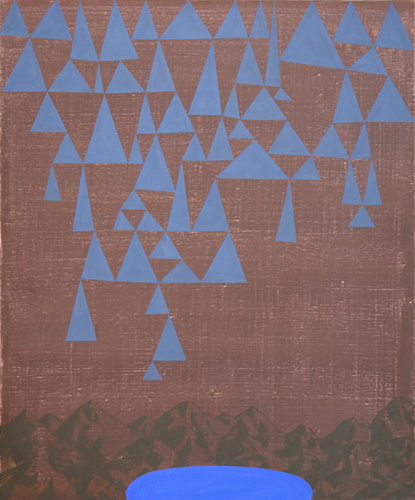 Mozart's Sister - "Chained Together". There is a game to obsession, to aftermath. Play it like you would play dead, play hopscotch, play a wheezy old keyboard. Put on a mask, take it off, cock your head and smile. Caila Thompson-Hannant coos a letter to her ex, like a deadened Cyndi Lauper, with bruised knuckles and pixel click. She teases and worries, wilts and refreshes, not certain if she is furling or un-.
[Montreal's Mozart's Sister plays SXSW tomorrow night / previously / Bandcamp]

Arrington de Dionyso's Malaikat Dan Singa - "Perawan Berawan". The gateway between worlds is gold and red and the colour of your eyes. It leads from the world you are in to the world beside the world you are in. Those who pass through lose their hair, their rings, forget their name. They stumble, hearts pounding, onto flattened grass. The gateway between worlds has a distance. It has a landscape and a soundtrack. There is a rock'n'roll band in the gateway between worlds, with gamelan and electric guitars. With fangs and a barrel full of rings. They sing choruses about pouting lips, mankilling tigers, shredded hearts, moon landings. It is not clear whether they themselves are travellers from another world. It is not clear whether they know their names.
["Perawan Berawan" is taken from Sunshine Off the Tracks, an exceptional benefit compilation raising money for GEMS, a NYC org that helps young women "who have experienced commercial sexual exploitation and domestic trafficking". There are terrific new songs by a whole slew of Said the Gramophone favourites, including Nat Baldwin, Way Yes, Adrian Crowley, Travels and Gym, Deer, plus new-to-me standouts like the tracks by Aan, Doleful Lions, White Birds, In One Wind, The Building. (IE, a lot.) So support a great cause and hear some gorgeous tunes: buy]
---
Montreal's Under the Snow festival began last night, but my highlights start tonight. Elfin Saddle launch their new album at Sala, with Monday Night Choir, and tomorrow Julie Doiron will perform the entirety of 1997's Loneliest in the Morning.

(painting by Clayton Merrell)
Posted by Sean at March 15, 2012 11:01 AM