GIVE ME ALL YOUR LOVE
Please note: MP3s are only kept online for a short time, and if this entry is from more than a couple of weeks ago, the music probably won't be available to download any more.
Alabama Shakes - "Give Me All Your Love"
Bobby Womack - "That's The Way I Feel About 'Cha".
There is a particular genre of music that I love the most. In fact, it's a steadfast killer on a jukebox and a near covert affairs mission when you're listening on headphones during a long walk in the late bloom of spring. Sometimes, it's a gut punch to the heart. Sometimes, it's a drive-by shooting at 4 am down the freeway. I've been slayed by both of these songs, which bear some similarity. Impassioned vocals. A strong voice. One a soft sell, the other a blistering demand for what's yours. Songs about people who want their love, own their feelings - the idea that someone could give you all their love and no one gets hurt!
In his great 1972 soul single, Bobby Womack explains over and over that even though everybody wants love (but is also inherently afraid of love,) he still can't help the way he feels about 'cha. (The 'cha is an important distinction, I think.)* In these songs, their subject has no choice but to relent. Both are incredibly vulnerable and intense and scary (especially when Alabama Shakes' frontwoman Brittany Howard laughs like an evil clown). There are beautiful, soft, quavering guitars. They groove. They explain that there's no shame in loving who you love as long as the target is focused and your aim is true. You can assassinate someone with honesty. ("Don't take my love as a sign of weakness, check into the situation girl and dig a little bit deeper," sings Womack.)
I guess I'm thinking about this, writing to you from Greenpoint actually, because I've been reading/writing and plain ol' fashioned ruminating. At age 28, I think I'm slowly regressing into my 16-year-old self. I feel tender? I bought a notebook? I am writing down my feelings (blergh) while drinking an egg cream in Veselka, the way I did when I was 20 and openly wore a halter/tube dress combination from American Apparel but I have grey rings under my eyes from sleep deprivation and making eye contact with the waiter makes me nervous. I'm underlining passages in Bluets, a great book by Maggie Nelson, which helpfully makes the distinction between loneliness and solitude. Solitude is the good kind of lonely, the practical one where you might take a long walk through a Botanical Garden and call your mother afterwards. I remember that feeling when I biked around Berlin's Museum Island (also alone) with a goddamn rose in my pocket at one in the morning, taking beautific proto-selfies with the flash on. Loneliness is pathetic, the feeling I get when I go to the McDonald's at Delancey and Essex to use the wifi and see if I can text my friends. There's loneliness and solitude, the difference between starvation and going on a cleanse. Like cutting out soda to save on empty calories and the proverbial "thirst" just produces hot bolts of blinding pain, fake conversations running through your head like bad radio static, tuned to a frequency you can't stand anymore.
Both those songs understand that when you don't have love and you finally get it, it's like eating a grilled cheese sandwich and rejoicing because you were so fucking famished. You didn't even realize you were hungry, after all.
People talk a lot about love and they talk a lot about love songs but they never talk about what it's like to love a love song so much that maybe you don't even need love at all. These days, I'm thinking, give me a love song and no one gets hurt.
---
* Here are some YouTube comments on the topic: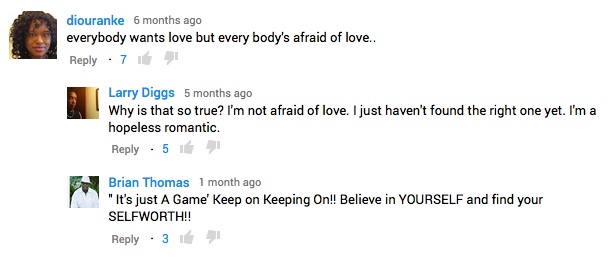 Posted by Chandler at May 15, 2015 9:00 AM