Given Title, Rank, And Counter
Please note: MP3s are only kept online for a short time, and if this entry is from more than a couple of weeks ago, the music probably won't be available to download any more.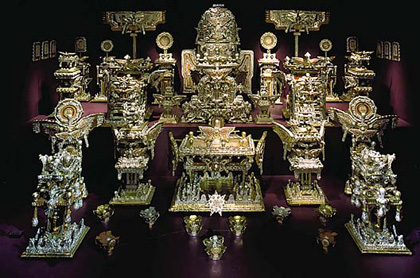 (photo from here)
Le Loup - "We Are Gods! We Are Wolves!"
Le Loup's The Throne of the Third Heaven of the Nations Millennium General Assembly is a heavy undertaking. It's kind of a whooshing stormy banjo warm front, and this is the breaking clouds. It comes in the middle of an album that stretches down into hell and reaches up to heaven, it's a very spiritual breadth, and seems pretty sincere too. Where this song exactly plays into the "plan" of this album I can't say, but I can ride that blippy part like a bus through a town of intricate spires and dark beige skies. I'm kind of scared of the vocals, even though they mean no harm, they sound like they're speaking another language sometimes, they sound very powerful, despite their sweet smiling and soft exterior. Like if the clouds were whispering at you, just their size alone would scare you. [Buy] (thanks, Jim!)
The new album from Okay, who Sean told me about, is wholly great. Right from the first song it's inviting like a warm living room with a fire and an old sofa. A bunch of 2-minute songs go by, and you're just getting to know it, you're kind of charmed by the crumpled-paper vocals and lush yet simple arrangements. Eventually after 13 short-ish songs and you're fully on board, tapping your foot and nodding and really agreeing with stuff. And then, a 7-minute song comes on, this one, and you're like "uh, no way" to yourself, "if you're bringing out a 7-minute song at this point, it's gotta be some giant droney solo-ey mess." So you cross your legs and get ready to be sympathetic. After all, you've really enjoyed yourself so far, you kind of owe it to sit through and smile. And then it's amazing. You uncross your legs at 2:30, you put your hands flat on the seat like it's going to lift off the ground at 3:48, and it's not long after that that your memory goes blank. You wake up in a sweat, and dazed, you clap for forgiveness as the fire dies to a shimmering orange. [Buy old stuff]
Posted by Dan at November 13, 2007 1:30 AM