GOLDEN GIRLS
by Sean
Please note: MP3s are only kept online for a short time, and if this entry is from more than a couple of weeks ago, the music probably won't be available to download any more.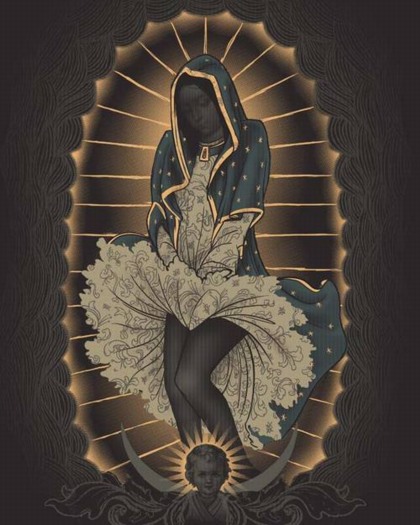 Fantasia ft. Cee-lo Green - "The Thrill is Gone". While the memesphere somersaults for Cee-lo's other song, I'm letting this one swing around the wooden frames of my apartment. The production's classic, hot, with uncowed drums; Cee-lo raps (and I've always preferred his rapping to his singing); and Fantasia sings with every confidence, every clear-eyed certainty (earlier this month, long after "Thrill" was recorded, all this had slipped). It's one of those rare songs where the verse is stronger than the chorus, gold-knuckled. With one glance over her shoulder, a knock-out. [buy]
Keri Hilson - "The Last Time". In these last singing weeks of Summer, r&b remains the thing (along with Smog's River Ain't Too Much To Love), and I'm loving the "1 Thing"/"Survivor" stop-stutter of this one, Hilson slipping sighing through picket-fences. It's a song pleasantly lacking in metaphor: she tells us it's the last time with her man, until the next time, and the song's fittingly ambivalent, part love-song, part dumping-song, trapped in the stretched-out impulsive right now. [website]
---
I last wrote about the Luyas for McSweeney's (describing a show documented here). While they're playing with Twin Sister and Bear In Heaven early in Pop Montreal, the band are also raising money for some crazy installation thing later in the weekend. Donate here to help make it happen, replete with a dancers, artworks, and a film by Vincent Moon. But besides all that, it's a chance to get the Luyas' exquisite debut for almost nothing, plus original portraits, t-shirts, et cetera. (Their new album drops in January, I hear, with a bigtime label.)
Speaking of the Blogotheque kids, they just posted a new Adam & the Amethysts video, with Montreal cemetery and raccoon, shot two days after Adam and I almost died in a car-crash. There's something very true in this "Bumble Bee"'s sudden strangeness, the flat and post-traumatic sunset. (Another film from the session, including an eerie empty rue Ste-Catherine, went up earlier this summer.) [Why aren't these at the Blogotheque site yet? WTF, la gang?
Posted by Sean at August 26, 2010 11:34 AM