Grizzly Bear's Marla
by Sean
Please note: MP3s are only kept online for a short time, and if this entry is from more than a couple of weeks ago, the music probably won't be available to download any more.
Grizzly Bear - "Marla"
Marla - "Of Course You Can't Go Without That" (exclusive)
I wrote before about Grizzly Bear's Yellow House. I said they had taught their garden to sing. That's a strange thing to say: how can a garden sing? It would have to be inhabited. With crickets and moths, maybe. Or nightingales. Or gardeners.
Or with ghosts.
I've carried Yellow House with me through many days and nights, on the streets and in my home. (When my mood was soaring or when I was drifting, woozy. Both of these things.) It is a music at once diaphonous and bodily, like a hand you can occasionally take and occasionally not. Like the way you can feel sunshine, sometimes, as you walk through a dusty band of it. There's an insideness to the music, - close, murmured, tender, - brought outside. Or an outsideness - wild, fertile, ripe, - brought in. Things walking where they should and shouldn't.
The Grizzly Bear song "Marla" is perhaps the most haunted of any on Yellow House. A piano sounds, an attic whispers, and voices gather like spirits in a cup. The strings, arranged by Final Fantasy, dip and rise like an old phonograph (gramophone?) record.
And here we come to a woman called Marla.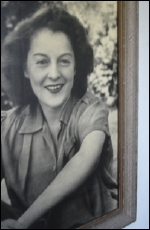 The song "Marla" is named for the great-great-aunt of Ed Droste, Grizzly Bear's founder (and a StG guestblogger last year). In the 1930s she moved from Boston to New York to be a singer. She failed, and by the end of the forties, she had drunk herself to death.
"Marla" takes its melody and words by one of the few things the real Marla left behind: this song, all full of sepia flowers. There are no attic sounds, no voices gathering in a cup. In the original recording we hear just the lace of Marla's voice, the ringing rise of the piano line - quickening, breathless. But already there's something unsettling in the cadences; something that wants and lingers. Not the sound of a ghost, yet perhaps - just a little - the premonition of one. Something already stirring in the drapes.
Ed explained to me, by IM:
"she's looking for things
before [my great grandfather] goes on a trip
to teach at a university
i believe that's what the song is about
she's running around the house
fetching his things
funny to think he'd travel with his file/drill and clam shells
I believe by drill she meant a hand drill that he'd use to crack the shells into various shapes
then he'd file the edges
so they were soft
before he'd fit them together
the color of the clam shells go from white to blue/purple
and various shades between"
From white to blue/purple
and various shades between.
Do you ever wonder the colour of memory?
[Yellow House is now available to buy (US/UK) and it is certainly one of the finest albums of the year.]
Posted by Sean at September 11, 2006 3:00 AM