Heartless Bastards
Please note: MP3s are only kept online for a short time, and if this entry is from more than a couple of weeks ago, the music probably won't be available to download any more.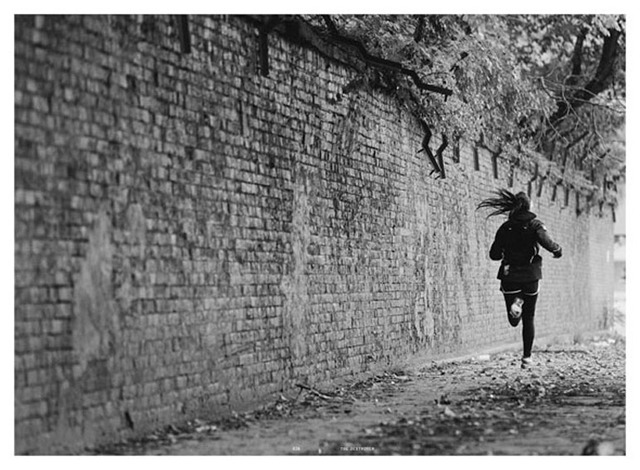 Heartless Bastards - "Parted Ways"
Alison sat at her desk and cut an apple core with a pair of scissors. Out the window, she could see three roofers on the apartment building across the street. They looked like action figures from where she sat, they would've fit on the shelf next to her printer, next to her picture of Frank. It was 11:05, and it refused to be 11:06. Over the little wall of her cubicle, her neighbour Marsha had a dozen roses, baby's breath, poking their blossoms over top, peeking over top. Marsha was married to Reid, he worked down the hall and through the security door that her fob didn't let her access. Level 3. Where the big secrets lived. But it's not like Reid really knew any big secrets, Alison knew more secrets about him than he probably knew about government security. She knew he laughed when he orgasmed, like it tickled. She knew he liked having sex in hot tubs, so said Marsha. She knew he was concerned about his body hair, and rarely wore short sleeves, and never wore short pants in the summer, and sweated profusely for it. His secrets, just like those of Level 3, probably, weren't very interesting.
Alison pulled home at 3:41, and sat listening to the end of the news in the driveway. She didn't really hear the words, she just wanted to let the person finish their reading. It was impolite to cut them off. She looked at her tupperware lunch, stained with sauce, and she looked at the vent settings on the dash. Fan hits face, fan hits face and feet, fan hits feet and defrost, or just defrost. Air comes from outside, or it just keeps going around inside. Always better to let the fresh air in. When the newsperson finished and the music started, she turned off the car and went inside. Frank's empty hi-tops, his bag, his coat in a heap, like he left a trail. She heard the TV in the other room. Japanese cartoons, must be, all that shouting. She slowly ran her hand up the doorway to the empty kitchen and looked in at the way the light came in at this time of day. So bright, so warm, like winter never even stood a chance. On the table, a little card. A valentine. A drawing of Zorro. "Happy Valentine's" and Zorro carved the shape of a heart with his sword. She turned it over. "mom". And her stomach turned to glass.
Frank was staring with his mouth slightly open and an empty jar of olive brine next to him, looking up at the TV. Alison came up behind him and hugged him and closed her eyes. She hugged him like she had a secret. Like she couldn't tell him how much he meant to her, because he would just disappear. You can't tell your son that they're your secret sexless husband, that they're the period at the end of every sentence, that they're your best friend. But you can hug them, and that's what she did. She hadn't even taken off her coat.
[Arrow is out today on Partisan Records]
Posted by Dan at February 14, 2012 2:12 AM