HERE IS AN ENTIRE MUSHPOT COMPILATION
by Sean
Please note: MP3s are only kept online for a short time, and if this entry is from more than a couple of weeks ago, the music probably won't be available to download any more.
A few weeks ago, our friends at Mushpot - a Brooklyn-based label and PR firm - asked if Said the Gramophone might be interested in premiering a compilation of new Mushpot music. We said: "Let's hear it!" They sent it over, we listened, and we liked it so much that we said yes.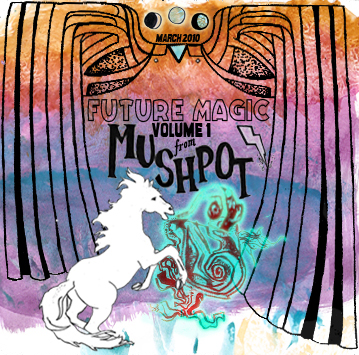 The compilation includes unreleased songs by Gramophone favourites like Capybara, Emperor X and Jumbling Towers, as well as Arc in Round, WAMPIRE, Candy Claws, Baby Birds Don't Drink Milk, Magic Magic, Family Portrait, Please Quiet Ourselves and Yawn.
For this week only, you can download the entirety of Future Magic Volume 1 by clicking here (60mb). After that, it will still be available through the Mushpot website.
The download includes info, album art, and hi-fi mp3s.
But today and tomorrow, also, some tastes:
WAMPIRE - "Magic Light". The Brill Building's still going. It's eleven storeys tall, compartmentalized. The senior songwriters get offices: potted plants, doors that close, desk-drawers on oiled guides. The junior songwriters are relegated to cubicles. The cubicle-walls are blue, pilled. Their screensavers show distorting beach-balls. WAMPIRE was one such songwriter. He had been at the Brill Building just three months when the seas began to rise. He would lean against the break-room's door-jamb, sipping water from a paper cone, watching the man who wrote "Single Ladies" and the woman who wrote "Complicated" microwave their lunches. He would crumple his cone into a ball and swish it into the garbage bin. WAMPIRE would be the next Carole King, the next Bernie Taupin, the next Terius Nash. His ridiculous name, the name he was born with, would no longer be an obstacle. Everyone would snap their fingers to his number one hits. WAMPIRE began working long nights in his cubicle, lingering long after the others had gone home, writing middle eights as the sun came up. He stopped meeting friends, stopped reading the newspaper, stopped browsing the net. He didn't hear that the ice-caps had melted, that the glacier-water was flooding in. He didn't hear about the evacuation. He thawed muffins, stirred creamer into instant coffee. He wondered where everyone had gone. As the water passed the 9th-floor windows, WAMPIRE's feet were on his desk. "Magic Light" was playing out of his Pentium's tinny speakers. The sheet-music scrolled by on his screen. He said: "Got it." ["Magic Light" is exclusive to Future Magic vol. 1 (downloadable above). See also their MySpace.]

Posted by Sean at March 8, 2010 1:06 AM