I CANNOT PAINT PICTURES WITH MY TONGUE
by Sean
Please note: MP3s are only kept online for a short time, and if this entry is from more than a couple of weeks ago, the music probably won't be available to download any more.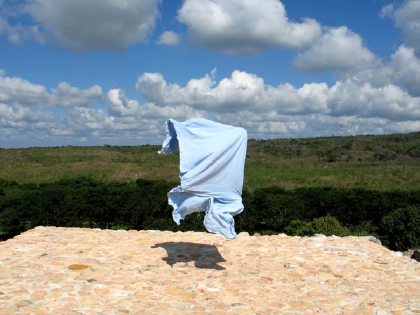 Sharon Van Etten - "Much More Than That".
Sometimes I do not have the word. I thought about this for a long time. There are always two possible reasons, I realise: (1) that I am not a better writer; (2) that there is no word.
And so, later -
- I find myself in a starry garden, my hand cupped to tiny flowers, breathing in. I have no word for these blooms. And I wonder. Is it that I am not a better writer? Or is it that there is no word?
Perhaps an encyclopedia tells me. There is a word. There are several. "Snow-in-summer", "Cerastium tomentosum". It is I who was lacking.
But suppose I go back to the garden, moonlit this time, and I cup my hand to the tiny flowers; and I breathe in the night-time; and what if then again I find I do not have the word? What if "snow-in-summer", if "Cerastium tomentosum" is not sufficient? What if with my knees on the grass the word I need is something else, but again I do not have it?
Is it because I am not a better writer? Or is it because there is no word?
I have wondered this often. Watching the wind push down a plastic chair. Standing and holding my grandfather's hand. Seeing a girl turn away. I have wondered this as I stared at a padlock; as I stared at a key; as I stared at a swan; as I bit into an apple; as I woke, at 6:45am, to the bleep of an alarm. There are no words, I thought at these moments; and always I ask if it is the words that are lacking or I who lacks them; and like Sharon Van Etten I wonder if I can improve, if I can become better, if one day I will have words for everything. If I will be able to say I love you in a way that speaks its every leap and ridge; if I will be able to say I'm sorry with words that do not tremble or glow; if I will have another word for darling, a better word, hidden and small, and dawning.
[website/buy this beautiful album]
---
Elsewhere: In Paris last week, I attended a screening of this 3 Days of Take-Away Shows - a short film of a road-trip by the Blogothèque team, together with Beirut, Slow Club and Mami Chan. The film is tender and charming, but it's also utterly hilarious - anchored in large part by the vif spirit of Mami Chan (and to a lesser extent cameraman Vincent Moon himself). It's one of those little movies that underlines why I so love the work of the Blogotheque's concerts à emporter - they are wonderful films, regardless (sometimes) of music; not just recordings of a performance but a story of the things it evoked. This one is definitely wonderful and you should go watch even (especially!) if you're unfamiliar with most of the artists.
(photo is "Oxkintok Blue", by William Hundley)
Posted by Sean at June 1, 2009 12:55 AM