Ian Curtis Donuts
Please note: MP3s are only kept online for a short time, and if this entry is from more than a couple of weeks ago, the music probably won't be available to download any more.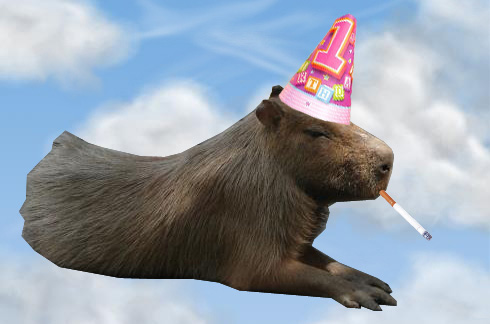 Clean playing, clean notes, clean leaves and clean breath. Animated rose envelopes, eloquent children and light breakfast. Sparse decoration, felted palms, thoughts like open windows and sidewalk sales. GUI, "phooey", and donc. The smell of pine and pining.
Capybara - "Happiness / Let Child Roam"
I feel it would be wrong to say the alphabet was "invented". It seems more appropriate to say it was "discovered". There doesn't seem to be a sound missing to convey any English thought imaginable. At the discovery of the last letter, let's presume it to be "h", there must have been such a sense of relief. As if finally, now, we have all the tools we need to use, the alphabet (formerly alfabet) is complete, and anything we need to add will be to accommodate other languages, English is fully-equipped. As I lie on my back, on the roof of a car, in Hatfield MA (can you see me?) I wonder if a symptom of growing old is feeling like your alphabet is complete. I wonder casually if "Happiness / Let Child Roam" is the last piece in the puzzle of how-to-perpetually-enjoy-myself-eternally. So between "Post-Modern Girls" and "Father to a Sister of Thought" and peanut butter-banana sandwiches and cold coffee and kissing and The Philadelphia Story and coasting down a hill on a bike and the way scotch tape cleans a cell phone I just won't ever need anything else to always be having a great time, I can just rotate between all of these perpetually for the rest of my life. Of course it's completely egotistical to think that all the most enjoyable things will happen during the time in your life when you're open to that sort of thing, but I mean it only in the nicest way. The way Capybara boom-in that fuzz guitar halfway through and end with their stick-clacks and sailors' choir, maybe that's it, maybe that's all I need.
(see you Friday!)
[Site]
--
Titus Andronicus Contest:
Some great submissions, good work to all who submitted. The first runner-up is "Tu: Unicorn Sadist" and no one got the instant-winner I had in mind (today's title) so the WINNER IS "Custard Unionist" by Drew. It makes me think of the Pudding Riots in the 20's and lines and lines of beige breadline dessert passionantes. So congrats, Drew, email me your info and we'll get you that vinyl.
TITUS ANDRONICUS PLAY IL MOTORE FRI SEPT 4th. Go see them. Other dates here.
Posted by Dan at September 1, 2009 3:40 AM