IT NEVER HAPPENED
by Sean
Please note: MP3s are only kept online for a short time, and if this entry is from more than a couple of weeks ago, the music probably won't be available to download any more.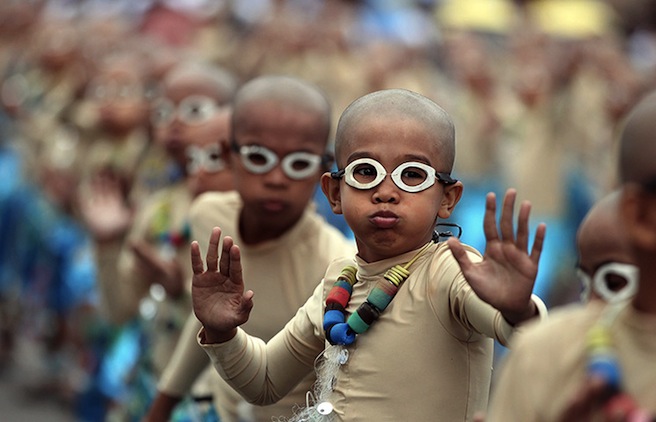 Cowbell and Friends - "Sunny (ft Dan Bejar)". Destroyer's Dan Bejar sings a song as light as cotton on a clothesline. It's a tribute to Sunny, one of the (almost literally) mop-topped kids in Windy & Friends. A children's song, strum and pluck, wafting. Its lyrics as genius as a caught ball: There is stop and there is go / There is mild versus mellow / Little birds turning yellow / in the sun. Anyone who has watched children play know that their games are not always harmless; it's not always strum and pluck, wafting. But that's what we hope to pump into their hyperkinetic brains: comfort, calm, that dream'll come easy. So even as Bejar's singing a terror - whistling wind, blowing wind, lost friends - he tells it as kind and safe, no-panic. Scares don't need to be scary. Existential crises don't need to be bummers. Children, pick up your swords / We are flowers at war with the city. Get up. Have an ice-cream.
[more music of Cowbell and Sunny /bandcamp for a previous compilation]

Alvvays - "Adult Diversion". I wrote the official band bio for Alvvays - lines about fuzzy songs "sun-spashed and twilit, glittering like a knife-blade". I fell for the band, hard, when I saw them at SappyFest 2013. But as the months have gone by, my sense of these tunes have changed. Like staring into the sun for too many seconds, like staring at a painting for years - senses blur, new details emerge. Listening to "Adult Diversion" now, or "Archie, Marry Me", I don't first hear the fizzing corona, the reverberating guitars - I hear the simple scamper of them, these songs like jungle-gyms for Molly Rankin's voice. Cartwheels of a singing singer, scaffolding and slides, places for Rankin to roam while she stares down her friends, stares down her enemies. A land of sour milk and burnt honey where Rankin is just telling her stories, and running, and running, never breathless, but breathing.
[buy]

(photo by Jay Rommel / source)
Posted by Sean at August 7, 2014 10:59 AM