Lady of Legend, Leisure
Please note: MP3s are only kept online for a short time, and if this entry is from more than a couple of weeks ago, the music probably won't be available to download any more.
In every society, even one as small and fluid as a city bus, there is an alpha creature. A being who, given a drastic change in circumstances, would rule. If this bus were to take off into space or suddenly bury miles underground, and we all had to live the rest of our lives together, one person would be, at least at first, in control. Sometimes it's not obvious, if the bus is filled with people who normally look furtive for a leader to follow, but sometimes it's deadly obvious. He stood at the back of the bus, in a slick canvas duster, hair down to his heart, with hands like heavy talons. Standing his bike made of body parts on its heel, he was dripping wet from a rain that no one else seemed to have experienced. As if his entire being were wearing sunglasses, he had turned himself into a reflective spirit. To look at him was to see yourself, weak and shaking and submissive by comparison. So struck by his aura, his stark, commanding presence, I turned to the woman next to me, pointed and said, "He'd be in charge for sure." She took out the white earphone on my side, <<'scuse-moi?>> [Buy]
--
Parethetical Girls - "Doughnut In My Hand" (go to "news", scroll down to stream "Doughnut In My Hand")
"In order to cull a sense of satisfaction from having lived, then there must at some point be a list of requirements needed in order to garner that satisfaction. In this sense life becomes a sort of 'preparing to die'. But the very idea that one could prepare mentally for the totally physical act of dying is absurd (you can't mentally put on a seatbelt or make your consciousness duck-and-cover). And subsequently, any kind of physical preparation, besides loading the gun or tying the noose, will not make death any easier or more appropriate. So the satisfaction brought about by a doughnut is perfectly serene, cynical, hilarious. I raise my glass and let it fall to all the wondrous poets who explain life through example where I cannot."
[Previously on StG][Parenthetical Girls guest post][Buy this new EP][Buy the extremely underrated Entanglements]
--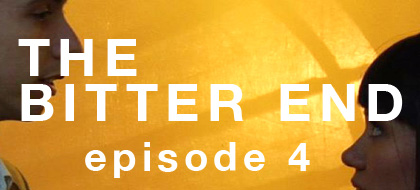 Posted by Dan at November 6, 2009 6:25 PM