Lies!
Please note: MP3s are only kept online for a short time, and if this entry is from more than a couple of weeks ago, the music probably won't be available to download any more.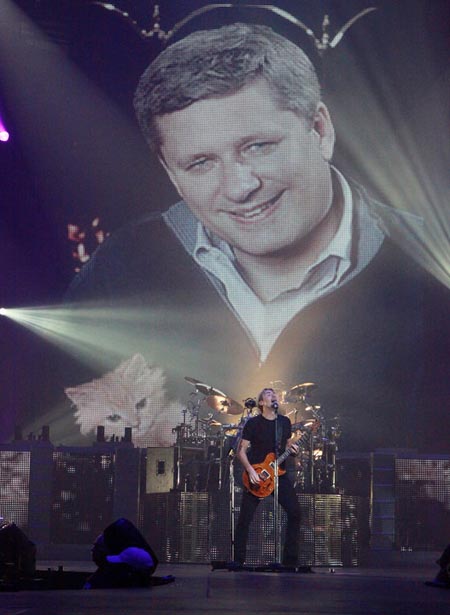 Matthew Friedberger - "The Sainte-Barbe Triangle"
It's true that I was once commissioned to perform emergency and controversial surgery on Laureen Harper, Stephen Harper's wife. I've been a cosmetic surgeon since 1998, practicing mostly out of southern Alberta, but recently moved to eastern Canada. In 2001, about 9 weeks after September 11th, I received a page reading "911". Obviously, 9/11 was still fresh in everyone's minds, and so I quickly panicked and returned the call. It was an insensitive use of the emergency page system, and I found out I was needed for, although not what I would consider a life-or-death situation, still a rather urgent and unique request. I was to go to Champlain Mall, wait in front of the New York Fries (again, I thought of firefighters) until exactly 6:20 when I would receive further instruction. The man on the phone informed me he was from the RCMP, so I obliged, despite the fact that the New York Fries closes at 6:00 (the whole Champlain Mall closed at 7:00 for goodness' sake) so I received not a few sideways looks. But at 6:20, as promised, I was approached by a man in a blue windbreaker who escorted me to the parking lot, and I was whisked away in a Ford Explorer. Everyone was very friendly, and they had dried cranberries for the ride, so I was happy. But still I was anxious to know what the hey was going on. On the hour-and-forty-five drive, they explained the situation: Laureen Harper had a "growth" that she needed removed, and I was being hired to remove it.
Well.
Let me tell you, I nearly clobbered these nice officers. "A growth?" I said, "All this for a growth?!" "Well," they said, "it's not an ordinary growth. Mrs. Harper is suffering from a condition whereby a foetus, rather than gestating in the womb as is proper and natural, has grown topically...on the surface." I paused, half-chewed cranberries in my mouth. "Where?" "On her upper arm." Apparently they thought things would resolve themselves on their own, they spent the regular gestation period keeping her out of sight, or at least covered (there was talk that she wore a fake belly in public) and took care of things the best they could. The foetus developed up to a point, but of course, given its situation, half-exposed on her upper arm like some sort of nightmarish three-dimesional tattoo, it couldn't survive. And now it was up to me to remove it.
Well.
I won't describe the process to you, I've been asked many times by those (often in their cups) curious to know, but I've never told a soul. I think of it much the same way I suppose veterans must think about war. I'd rather not put you through it, and besides, it would require some re-living so if you don't mind I'd rather just avoid it. But I will say this, as I worked away for hours, under flickering flourescent lights, trying to finish in time for a morning press conference, where Stephen was supposed to announce his candidacy for Prime-Minister, I heard him moaning in what seemed like a kind of zombie-like half-sleep. I was questioning the motives of how rushed this operation was, how secret it was, when I heard him moan, quietly to himself, "It was the only time. It was the only time we..." and then a drag of his Player's Light. I looked down, at my work, at my disgusting, devilish work, and soldiered on.
[subscriptions to Solos are sold out. But you can hope to find Meet Me in Miramas at stores like Phonopolis in Montreal]
[previous Stephen Harper fan fiction]
Posted by Dan at March 25, 2011 7:55 PM