LITTLE GIFTS
by Sean
Please note: MP3s are only kept online for a short time, and if this entry is from more than a couple of weeks ago, the music probably won't be available to download any more.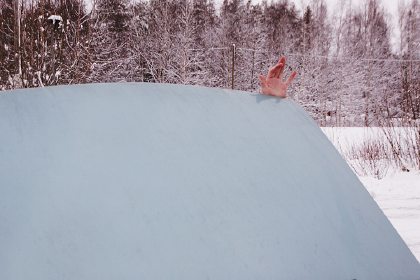 Sister Suvi - "Golden". Spent some of yesterday with Merrill Garbus, the woman who is Tune-Yards and one third of Sister Suvi. We took our bikes to the quarry, threw on our walkmen, went down deep. In the gloom we listened to Billy Joel, Pavement, mined copper and zinc. We came out with our jean-jacket pockets full. We biked back to my place, stopping for dark beer and honeycomb toffee. We listened to the Velvet Underground's Loaded and smiled and laughed, window open, crows weaving in murders outside my open window, and with our metals spread flat before us we hammered, hammered, hammered our armour until it was brass.
Sister Suvi, one of my favourite new Montreal bands (previously, previously), continue to tour themselves sick. Catch them all across the United States, and buy their album for a price of your choosing.
---
Kath Bloom - "Come Here".
Marble Sounds - "Come Here".
A wonderful double CD compilation is being released tomorrow, by Australia's Chapter Music. On Disc 1, some of the best songs by Kath Bloom - a 70s and 80s folk-singer first introduced to me here by Jordan. And on Disc 2, covers of these songs by artists like Josephine Foster, Bill Callahan (Smog), Devendra Banhart, Mark Kozelek and the Dodos. Unusually for such a comp, the covers are on average very, very good. Both discs are. Also unexpectedly, I think my favourite cover is by an artist I had never heard of. Marble Sounds' take on "Come Here" is more straight-backed than Kath's, has european marbles in its mouth, but the longing is still there, cast in hopeful silver. There in the plain-faced waiting, the level-voiced singing, is four whole hearts of wanting; love that sounds out hot from the organ.
And Kath's original version, well, it's the sound of a cup that runneth over.
[buy]
---
One week ago, we launched our 2009 Funding Drive. Inside of just two hours, we raised $315 and met our goal for this year's technical expenses. Our eyes just about fell out of our potatoes. For the rest of the week, we kept open a fund for people to donate to some of mine, Dan's and Jordan's other projects. Over these seven days, we received a further $1,127. The figure is staggering. Literally, if I had to walk while typing this, I'd be staggering. It's hard to articulate just how much the continued generosity, warmth and contact from our readers motivates and inspires us. Not just at Said the Gramophone, but everywhere in our lives. We're blessed, kissed, coaxed, and made credible. It means more, I think, than you can know.
So to the 77 people who donated this year - our appreciation is deep as seas. Special thanks go out to Howard, who made the single largest donation, and to Brian, whose was the first donation to be received this year and who is the only person to have donated every year since the funding drive's inception. To the others who are also here, chirping in the wings - thank you too. We hope you'll want to keep reading.
(We'll be sending out individual thank-you emails & postcards as soon as we can!)
Posted by Sean at April 6, 2009 11:09 AM