LITTLE SCREAM
by Sean
Please note: MP3s are only kept online for a short time, and if this entry is from more than a couple of weeks ago, the music probably won't be available to download any more.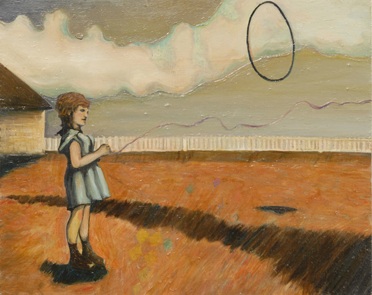 Little Scream - "Heron and the Fox". We measure distances in miles of highway. It doesn't matter how the bird flies, or how the fox runs. We are men and women, locked in cars and buildings and jobs and lives, parked a truckstops, and we cannot slip through the forests, swim through the lakes. We are far away, sometimes, and we cannot take the shorter route. Sometimes the shorter route is closed.
Oh I'll give you all the colours
that are left here in my box
if you would draw a picture into which we could both drop
yeah you
would be the heron
and I would be the
fox
I think there are a lot of people in Montreal who have been holding their breaths for The Golden Record, Laurel Sprengelmeyer's debut album. For two years she has been appearing under hot lights and then disappearing, bowing away into shadow; and by the doors there was never any music for sale. No CD-Rs, no 7"s, Little Scream had no MySpace page and scarcely a website. But every time I saw her perform, I wondered, How would you take this home? Laurel's songs were special not just for their beauty, their fragile lift, but for the space she created around them. She would sing a thin, silver phrase, and the light in the room seemed to change. When she raged, with ring & thunder, you could smell the petrichor of somewhere else. It was a secret of syllable, murmur, teeth and tongue.
Now and then Little Scream's concerts were disasters, undone by nerves and tech. But usually they were uncanny splendours. Accompanied by drums, cello, bass flute, or all alone, her music darted and flickered. She is one of those rare, wakeful interpreters, of herself and only. In one moment Laurel is fragile, weary; the next, wild and searching. She sings each separate instant, like Mary Margaret O'Hara (for whom she has opened). Sometimes instead of sounding pretty, Laurel sounds patient. And always, part-mystery.
Dan called Little Scream the best thing he'd seen since Tune-Yards, and Laurel has shared stages with acts like Atlas Sound, Stars, Bell Orchestre, Woven Hand and Superchunk. But she is still unsigned. And The Golden Record, which had help from Arcade Fire's Richard Parry, Stars' Patty McGee, and the National's Aaron Dessner, is still without a release date.
How do you take this home? You keep your breath held.
[Little Scream's website/listen to more songs/videos for La Blogotheque/ She is presently on a US tour with Owen Pallett, Land of Talk and solo; she plays Los Angeles on Friday. Full dates here.]
(painting above is Laurel Sprengelmeyer's Headlong gaze into the impending collision)
Posted by Sean at October 18, 2010 4:30 AM