MAR ME AND THE WOUND WILL SING A QUIET SONG, MARRY ME AND FACE THE PRICE
Please note: MP3s are only kept online for a short time, and if this entry is from more than a couple of weeks ago, the music probably won't be available to download any more.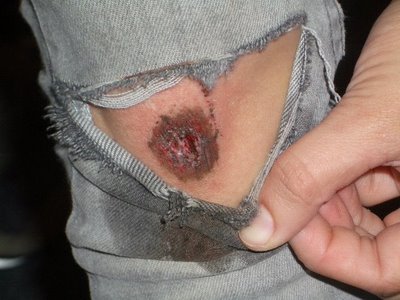 Lloyd Miller & The Heliocentrics - "Pari Ruu"
"If I'm resurrected, I sure as shit better be able to dance," were my grandfather's dying words. I either thought or said, "Do you mean reincarnated?" but it was too late. He was suddenly more lifeless than the rubber plant on the table next to me. I had bought it for him when he had gone in; something that didn't need too much watering. I didn't cry, it had been too long coming for that, but I suddenly wondered about his Buick LeSabre. I told the nurse I would drive it home, but she insisted I stay for lunch first. It was odd, but it was still early in the day and I didn't really feel like going back to work, so I agreed. I sat in the cafeteria with a bunch of the nurses who had been caring for my grandfather off and on over the years and we talked about him and told stories. They talked about how no one wanted to be the one to give him sedatives, because once he was drowsy he apparently became pretty lascivious in his language. I apologized on his behalf, but I could tell they didn't really mind. They said he could be sort of poetic about it sometimes. "If I have earned one prize in this life, it's to have your breasts graze my chin as you change my sheets." I looked out the window at the hospital garden, which stretched on down a long green lawn to a forest. A lovely place for slow-walking patients and visiting loved ones to take a stroll. But as I focused my eyes towards the horizon, at the edge of the forest, there was a figure, facing away towards the woods, as if about to go in. But dancing. Wildly and with rabid abandon. I'm a bit embarrassed of my reaction, I suppose it had only been a couple of hours, but I ran headlong into the plate glass window, which flattened my face and bounced me to the floor. Luckily I was surrounded by nurses. When I came to, I asked fervently about my grandfather, if he was alive. Of course he wasn't, the orderly came in who had been dressed in his clothes and dancing in the garden. I smiled, but still, "Why did you do that?" "He asked me to." [MySpace]
Scissor Sisters - "Running Out"
Here's the coolest thing about the coming World Government. Like, when 1984 gets here. Here's the coolest thing. Everyone will have an implanted GPS tracker (which they will purchase willingly, they will pay (literally) through the nose for it) that will have tons of cool apps on it. One layabout social mooch with no job and all sorts of stolen free time, will design an app that saves your GPS movements, all of them, and paints them in lines across Maps like stringy ribbons. You save these up over a year, and then send them in to this layabout social mooch's computer, and he sky-jects them on a cloudy night, animates them, and people's lives bloom in yellow, pink, mauve, and beige blossoms across the map of the city. You can see some people spread like a sprawling virus all over the city, the world, or ping-pong to a few places like a trapped rat, or stay in one place and seep from the boundaries of their house like a fountain pen held in place too long, like an oil spill from space. That'll be the coolest thing. Well, that, and the escape attempts from the Unpatriotentiary. Those will be pretty rad. People sewing themselves into other people's skin, that kind of thing. [Buy]
Posted by Dan at June 25, 2010 8:11 AM