MIDNIGHT, SON
by Sean
Please note: MP3s are only kept online for a short time, and if this entry is from more than a couple of weeks ago, the music probably won't be available to download any more.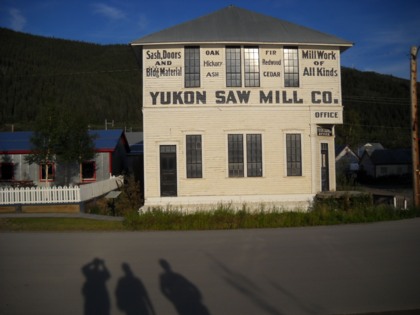 Get Em Mamis - "Cold Summer" [website] To write perfectly about the Dawson City Music Festival, I would need the Harbourcoats' "Rivers of Gold", a song that has not yet been released. So instead, this; a song that has perhaps never been heard in the Yukon. But I can imagine it booming from a helicopter, pounding from a steamboat, banging hard as the DCMF board of directors swagger down Front Street. DCMF is a gentle festival, big-hearted, but there is a Baltimore backbone in their faraway choices, their determination to organize rackets in a town without traffic lights. Let "Cold Summer" help them to skip off the boardwalk, to kick up dust. Steal bikes and return them.
Dawson City is an extraordinary place, banked by hills, and a river, the Yukon or Klondike, a waterway that literally runs with gold. It is dusty. Things lean. The low buildings have been preserved, petrified in the cool dry seasons, until they feel like pieces in a diorama. But people live here - old people, young people, families, prospectors, artists, hippies, labourers, loping prowlers. They meet in the evening, at Bombay Peggy's or Klondike Kate's or the Midnight Sun Hotel. They eat fish & chips at Sourdough Joe's or, more often, at home; it is a village of dinner parties, of slow food, of waiting for the ice to break. It's a place where people visit, and stay.
We should all visit.
The Riches Big Band - "Madame Zehae Ala (Just As I Am)". With Vish, Dallas from Constantines, and a couple others, I took a helicopter ride to the Tombstone Mountains. After the tufted greenery outside Dawson, the Tombstones rise up like bad dreams. They are sharp, craggy. They made me think of rusting knives. But they're also so beautiful, and we wove between them like gods, like Coyote or Krishna, over sheer slopes and perfect cold pools. I imagined that this was the sort of place that immortals would live. They would wander, at peace, in the summer's long days. In the winter, they'd build fires, crouching in the gravel, listening to LPs on their magical record-players. They'd play "Madame Zehae Ala", impossibly far from the Ghanaian studio where it was recorded, but recognizing every sentiment in those guitars, those voices, the co-mingling of loves. [via Juan and Only / buy / "Madame Zehae Ala" is clearly the song on which Highlife's "F Kenya Rip" (previously) was based.]
For more on this year's Dawson City Music Festival, see the DCMF Listener.
---
Said the Gramophone will have its first ever dj set tomorrow night, as part of the launch party for M60, the Montreal 60 Second Film Festival. Dan and I will be there from 8pm til late, giving much occasion for hang-outs and dancing. The launch party is free, and besides the DJing, there will also be exciting tales by Fruit Hunters' Adam Gollner and The Secret of Oak Island's D'Arcy O'Connor, a compass-building workshop, screen-test booth, and a surprise 9pm headliner that hisses, snaps and rhymes with "wizards". Most importantly, you can register to make a film for M60 - a festival I co-founded in 2007. There are no fees, no judges, no prizes, just a great gang of Montrealers making one-minute movies. Hope to see you there!
Posted by Sean at July 22, 2010 1:11 PM