MUCH TO SAY
by Sean
Please note: MP3s are only kept online for a short time, and if this entry is from more than a couple of weeks ago, the music probably won't be available to download any more.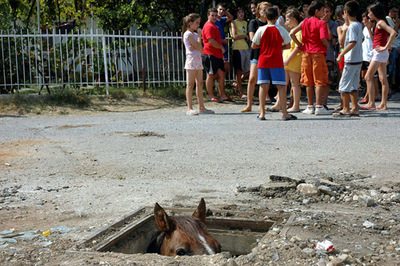 Dirty Projectors - "No Intention". One of my favourite songs of the year so far, "No Intention" showcases the Dirty Projectors as summer pop band, as streamers in a park, as spangled yacht-sails in the harbour. But as airy as it feels, (like Spoon on a beach, or the instrumental middle-eight of Vampire Weekend's "Cape Cod Kwassa Kwassa",) "No Intention" is virtuosic, utterly intricate. The arrangement of voices, of fingers on guitar-strings, of rhythmic twitch and back-step. There's the complexity of a bluebird hopping from branch to branch, snapping sunshine out of the sky. An illuminated colouring-book in grass greens and June golds. [buy on CD/LP/cassette]
Archivist - "Sunday Morning". This is no kind of Sunday morning I've ever known. I don't mean the heartbreak, the cotton-mouthed glumness - but the particular sort of strings and bass, the shine of tambourine and sneer of horns. Sunday morning is eggs and toast and sunlight on sheets - not dumpster clang, pavement stones, warm beer. But Archivist, friend of Pony Up, Cotton Mouth and the Dears, seeming admirer of Radiohead and the National, has known different weekends than I - Sunday mornings that are moonlit, grey, with mice in the dresser drawers. [buy/MySpace / playing again in Montreal soon]
---
This weekend was a wonderful, twang-and-flash show by Bonnie "Prince" Billy, but also a double CD launch for Clues' self-titled debut and Elfin Saddle's Ringing for the Begin Again.
Elfin Saddle's new CD is so distinctive and very fine - and I've written about it before. Folk music dark as moss, tinged with Japan and Appalachia. Theirs was the better performance of the night - a band playing for one of the largest crowds of their career, one of the best gigs of their career; mesmerising us, scaring us.
Clues are the band formed by Alden Penner (the Unicorns) and Brendan Reed (Les Angles Morts, Arcade Fire at their earliest and best). They too, we've written about before. Said the Gramophone organised Clues' first-ever concert, at Pop Montreal 2007, where they played again with Elfin Saddle (as well as Horse Feathers and Casey Dienel/White Hinterland).
Clues is a frontrunner among my favourite albums released this year, an album that reveals itself more with every listen. Every time I turn it on, I discover the treasure of a different song. It's adventurous, immediately gratifying, but also much more complicated than it at first seems - songs that switchback, that change, that are reincarnated.
But this Clues concert was a disappointment. It wasn't as flawed as the one last summer, for the anniversary of the Cheap Thrills record store - but nor was it as good as that first catastrophic concert, at the McGill chapel.
The heart of Clues is expressed in one of their song titles: "Let's Get Strong". Their music is limber, dazzling, fraternal, utterly strong. All of Alden's songwriting gift - the lift and glimmer of melody, the cat's-cradle, - all of Brendan's north wind spirit. But it all relies on a kind of violence, a fighting spirit, a punk & knuckleduster glare. It's still kind, still wide-eyed and generous, but that kindness is cooked in a crucible; Clues would collapse inhabited skyscrapers to take you by the hand, would push over a bus to make you smile.
In their current incarnation, much of that vigour, that pure muscle strength, is lost. Its fury is diffused through too many musicians, its precision made sloppy by too many hands. Because the songs make so many about-faces, with false climaxes and sudden twists, I can't help but feel that more is less. Yes, sometimes two drums hitting at the same time makes it twice as hard a hit. But sometimes, two drums mean the hit is just half as hard. Sometimes ten people yelling is less than two people yelling. There were four members in The Who and three members in The Unicorns. I wish this band were small as a fist, strong enough to stick in a fire for a week.
Brendan's "You Have My Eyes Now" was the highlight of the set - so simply played, so utterly precise. The charisma of this band's leaders is all it needs - no smoke machines, no ragged edges, no chaff.
---
I am going to Paris tomorrow but Montrealers should go and enjoy The National, this time playing not (alas) at le National, but at Metropolis. The sound will be great; go early and sit on the balcony with a double of Jameson.
Posted by Sean at May 18, 2009 2:57 PM