NEW GOLD LEAF
by Sean
Please note: MP3s are only kept online for a short time, and if this entry is from more than a couple of weeks ago, the music probably won't be available to download any more.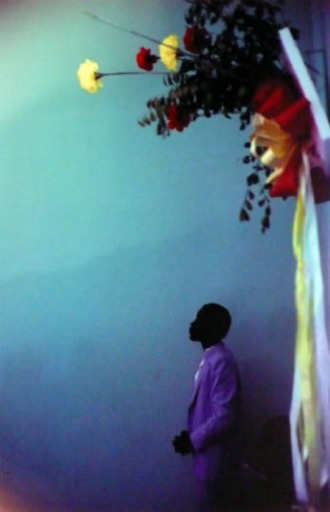 A year and a half ago, on this blog, I wished I had this song. A year before that, I wrote about Bry Webb, singing with the Harbourcoats at Sappyfest: His voice is magnetic, I wrote. I mean that it is compelling to listen to but also that it sounds as if it is made of whatever substance magnets are made of. Now here we are, in the cold November, and Bry is preparing to provide Provider, his first solo collection. This is a man who used to spit smoke with Constantines. On 2001's "Arizona", over charging electric guitars, he yelled, "We want the death of rock and roll!". Once, in an airport, he recommended to me the poetry of James Tate. Tate wrote this beautiful poem, concerning a wedding.
"Rivers of Gold" was written in the Yukon. In this recording, the land is quiet. The Klondike is lowly. The metals are still buried. Bry sings these verses as if he is placing stones on a desk, one after another. At the end of the track, and in the middle, you can look at these stones sitting on the desk; you can look, and think, and feel something. I like that this song is a metaphor but also not-a-metaphor.
I was working in a gold-rush city.
I was playing in a band.
We had an understanding
only we could understand.
I was making a decent living
in the Yukon territory
thinking:
Of all of those who came before me
I am the one most free.
In a way, I suppose, every song is a metaphor and not-a-metaphor. It depends on how you use it. In a way, every river is lowly, and every poem is beautiful, and every November is cold, unless you live in the southern hemisphere.
The songwriting on Provider is humble and serious. It does not draw attention to itself. It recalls the best lyrics of Neil Young, but none of his solos. Shakey, they call Neil; I imagine Bry with his ear to the ground, listening for tremors.
The singer is not as weary as he seems. He is free, he reminds us. He has that end-of-day freedom, dusky freedom; in the Yukon, in a certain fashion, it is always dusk.
I remember sitting with Vish at Bombay Peggy's, on a Monday, listening to Bry Webb sing this song. And I remember thinking, In this instant, this is everything I want from a song. I neglected my drink, and my lonely heart. And also the night's thin grey daylight.
[Provider is released tomorrow by Idée Fixe Records / buy / it includes an even more excellent song called "Undertaker" - stream it here / with horns arranged by Colin Stetson]
(photograph by alex webb, no relation - source)
Posted by Sean at November 14, 2011 12:41 AM