NO RELENTING
by Sean
Please note: MP3s are only kept online for a short time, and if this entry is from more than a couple of weeks ago, the music probably won't be available to download any more.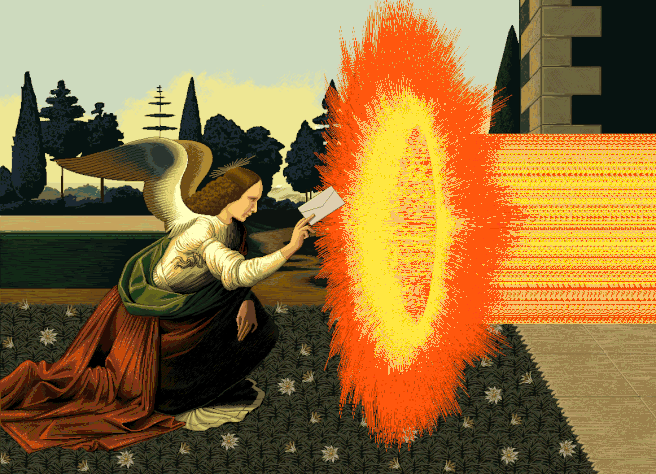 Owen Pallett - "The Riverbed".
Lately I have been caught up with Big Questions. Questions of why and what, a reverberating how. It's not an existential crisis, not a gin-soaked depression; I'm too happy for that. But, sometimes, some of us, even the happy ones, maybe especially the happy ones, need to ask these big qs. We are finally at a kind of rest and so it seems like the time, finally, to look life square in the heart and ask. Dry-eyed, deliberate, gazing from riverbed to thunderhead. With courage, no desperation.
Owen Pallett's In Conflict is his fourth solo album, the second under his own name. It is a tremendous work - universal and particular, pop music and out music. It fills me with a mixture of certainty and uncertainty. It feels like staring at yourself in someone else's mirror. Sometimes, listening, I am reminded of Stravinsky; other times, of Bernie Taupin. (Owen would maybe hate the Taupin comparison, but Bernie too is a master of revelation and affect.) It is an isolating album - a record that settles around you like its own biome, with rhythms and weather. It does not mix well with others - with stray scraps of radio, other people's conversations. I am writing this with Owen in my headphones and the World Cup echoing around me and it is as if two worlds are competing for my allegiance. One of them is valiant, the other capricious.
Let me talk about "The Riverbed". This song is a thrill. It is martial, thunderous, awesome. It is tidy and banal. It is the union of those sides: the banality of thunder, the thunderousness of ennui. Maybe they once called this genre "chamber pop", but here there is floodwater in the concert hall, electricity in the air. A clatter of snare and cymbal, that masterpiece of bass-drum - it is like making a monumental ascent, fording a river. The arc of Owen's vocals, the smooth swells of strings - this is all glide, unstruggling. Again, both sides - effort and effortlessness. This is the most confusing thing, sometimes, about art, and heart, and self-destruction: that they are hard and also easy, or easy and so, so hard.
Owen sings of hand on paper, finding new work. A few breaths later, The gift of your depression bears you down, down, down. So easy, each of these discoveries: sometimes the Muse is sitting beside you, offering creative inspiration; other times, the universe kisses you on the mouth and provides arbitrary sorrow. There are lines about alcohol and childlessness, loneliness and companionship. Just one glance at almost each image; the song is never subsumed by its subjects. And this is what led to my earlier reflections, on dry-eyed meditation: as much as "The Riverbed" tells a story about collapse and comeback, gin binge and struggle, it doesn't feel like it is performed from that space. Written, maybe (maybe), but not performed. Here, Owen seems sober and steady. He seems measured. He has looked into the well and now he can teach us about it. He can keep asking the same questions, the ones he intuited in crisis. Try to admit that you might have it wrong. He has learned something - something small, like a black garnet; something about velocity and persistence. Or even if Owen hasn't truly learned the lesson yet, he's untangling it, singing, trying to choose the proper words. Perhaps we can learn it. I'm going to try. This is the thing about life's empty hurtling: we're all falling together.
(Or are we?)
[video (which is great) / buy / touring all over, this summer]

(GIF by Uno Moralez)
Posted by Sean at June 16, 2014 1:25 PM