NO RIFTS
by Sean
Please note: MP3s are only kept online for a short time, and if this entry is from more than a couple of weeks ago, the music probably won't be available to download any more.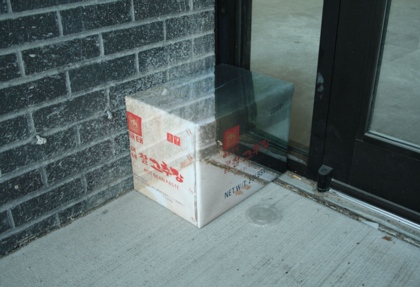 Before we begin... What are the best songs of 2010? As usual, I am assembling my list of the year's very best - and as ever, I need your help. Please email me your favourite songs. Send mp3 attachments or a link to download a zip file. (Please don't send me links to Youtube/MySpace/Bandcamp if possible - I have a lot to sort through.) I want everything: your folk ballads and your club bangers, from Fabolous to White Hinterland. But honestly - only the very, very best. Imagine you could only listen to 5 songs this year. Send me those. Thank you very very much.

Young Galaxy - "Peripheral Visionaries". There is a capsule that is going to reach the sun, one day. It contains a garden. When the capsule reaches the sun its silver exterior will blister and come apart, and the leaves will scorch, and the flowers will be lit for the briefest instant by the sun's red corona. When J woke from this dream, she could still see the garden's colours on the backs of her eyes. She still felt the capsule's descent in present tense. She did not know what it meant, to dream of the end of a garden. O was asleep beside her and she touched his arm, but almost immediately she regretted this. She was afraid that she should not touch his arm. She was afraid of the omen. More afraid of the omen than of the chance that it meant nothing. She got up and opened the door to the bedroom.
[Young Galaxy's Shapeshifting, which will be released early next year, is an LP of rays, shimmer and ash. It's open, beautiful, strange and lithe. It was produced by Studio's Dan Lissvik. I wrote the press release.]
Bear In Heaven - "Fake Out (Glass Ghost remix)". Rob Brydon does a bit about a small man trapped in a box. The small man always seems frantic, insignificant, confused. But what if this man is perfectly happy. What if the small man has a marvelous private world, there in the box. There are control panels and switchboxes, screens and dials; and he knows the significance of every lever, every light. The small man in the box watches Bear In Heaven webcasts. He orders in thai food. He listens to Ornette Coleman records, gets stoned and lies on his small couch. The small man in the box has no complaints. He doesn't even long for a partner. He has a partner, a friend he talks with over Skype. She is beautiful and sometimes she takes off her top.
[buy Bear In Heaven's excellent Beast Rest Forth Mouth / more Glass Ghost]
---
Elsewhere: The first official Twin Sister music video, for "All Around and Away We Go". All those colours!

(photo installation from Cayetano Ferrer's Western Imports series)
Posted by Sean at November 18, 2010 11:46 AM