NOOSE OF THE WORLD
by Sean
Please note: MP3s are only kept online for a short time, and if this entry is from more than a couple of weeks ago, the music probably won't be available to download any more.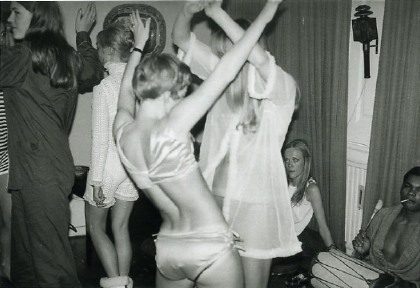 We'll start our week with a bird killer and a hangman.
Fire On Fire - "Hangman". It's mandolin and stamp and big-mouth yell, jaws open wide as muppets'. WAAAA-OOO, they sing. It's a sound that reverberates in my skull as I sit in my office at work, with the Monday raw behind my eyes. It's the opposite of everything before me, or the tie round my neck. WAAA-OOO! What the hell am I doing - what the hell are we all doing, we toilers, we paper-pushers? Why aren't we with our friends, building our own cities, fixing our own feasts, finding our own kings & queens? On Mondays with our stacks of forms and flatscreen glow, it's easy to forget you have friends. That somewhere beyond these chipboard walls, beyond the place where you dwell for a time to bring that bi-weekly cheque, there are people who will clasp and hold you and raise you, when the time is right, onto their shoulders. But even the hangman has friends, my friends, even the hangman has friends.
[Fire On Fire's limited edition, silkscreened debut EP is now available from Young God. / Looking at the "Influences" on the Fire On Fire myspace is like a who's-who of interesting and favourite folk acts: "B. Dylan ... Sun City Girls, Sun Ra, Jolie Holland, Herman Dune ... Alex Lukashevsky ... Doc Boggs, ... Neil Young, Van Morrison, Skip James, John Hurt,... Arthur Russell, ... Gillian Welch, Tarif de Haidouks..."]

Beasts and Superbeasts - "Bird Killer". In a quiet voice - something of Smog, or the fellow British Columbians in P:ano, - Michael Baker tells us that he's a ladykiller. He's a bird-killer, a shark, a dog, a coyote. He licks his lips as his band plays their heavy folk-pop. He sits looking darkly at you from across the room, red kerchief in his upper pocket. He sings of sickle moons and slow-slain suns. He sings that he's a bird-killer, and that ultimately we are all like him, opening wide, teeth flashing like stars. "Sex is a sword / a smile is a wooden horse / we all fear exposing skin / we all sometimes take aim."
[Buy via Randy Bachman's homepage (?!) / MySpace]
---
Said the Gramophone will tomorrow be announcing the biggest contest we've ever held. Stop by.
---
Elsewhere:
Catbird Records is having a holiday sale.
In my Vampire Weekend post last week I forgot to mention this terrific, hilarious writeup at The Fader - Vampire Weekend's song "Ladies of Cambridge" explicated in a wry, printed-and-scanned bulleted list.
Everyone does end-of-year lists but my favourite are the ones that illuminate music I hadn't heard, or else comment on something in a new, right-on way. 2007's first two essential year-end best-of lists are at Skatterbrain and Motel de Moka. At Skatterbrain Matt rounds up a year's worth of under-the-radar indie-pop releases, whereas Moka's idiosyncratic list has a folktronica bent.
Posted by Sean at December 10, 2007 12:07 AM