NOT RIOTING
by Sean
Please note: MP3s are only kept online for a short time, and if this entry is from more than a couple of weeks ago, the music probably won't be available to download any more.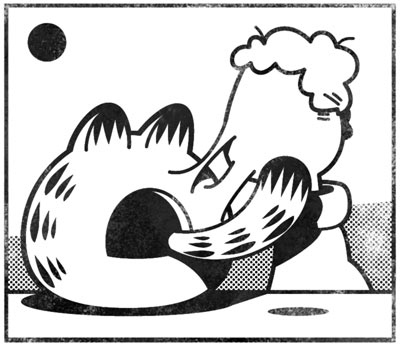 AIDS Wolf - "Teaching to Suffer".
"It's like I've spent the past two years in a room with petroleum poured over the floor, brown sludge, and I can't stand up without falling down, slipping and skidding and smearing into the ground. And, like, I got used to this. I got so brainwashed and used to this that I treat it as normal, now. My tongue lolls out of my mouth and I plunge all over the place. One of these days Francis is going to break up with me and it's like I'll have an exit and I'll be staggering all over the open city with the same heaving shit-stained lurch."
"Is it really like that?"
"I don't know. I'm still figuring it out. I'm meeting him for dinner."
[Montreal's AIDS Wolf release two albums this month. "Teaching to Suffer" is taken from March to the Sea, the band's final studio release as a quartet. Buy it here. They will also be releasing a 12" with remixes of their cover of Throbbing Gristle's "Very Friendly". Pick that up here. On Saturday, AIDS Wolf will be playing a lunatic noise-ridden show at L'Envers, with Black Feelings and Pink Noise. $8.]
The Wilderness of Manitoba - "Manitoba".
"I'm trying to work up the nerve."
"What nerve?"
"The nerve to ask."
"The nerve to ask what, Francis?"
"To ask her uh. To uh. To ask her to marry me."
"Really?"
"Really."
"You're going legit."
(laughing) "I guess I am. It's been two years, you know? And things are sorta great."
"Sorta?"
"No, they're great. They're great. She really gets me. It's beautiful. We're like two hearts holding hands."
"Two hearts holding hands?"
"I just need to get out of debt first."
[buy]
Posted by Sean at September 9, 2010 4:17 PM