Notes With No Notes
by Mayana
Please note: MP3s are only kept online for a short time, and if this entry is from more than a couple of weeks ago, the music probably won't be available to download any more.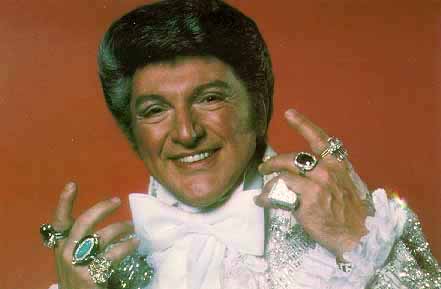 On July 19, 1957, two hooded men walked around the back of 15405 Valley Vista Boulevard in Sherman Oaks, Califoria. They found a little old lady named Frances Liberace Casadonte. After chasing her into the kitchen, they used their stocking-covered fists to beat her severely, saying," This will give him something to laugh about."
Across town, Wladziu Valentino Liberace was defending his honour. Confidential Magazine had run the headline "Why Liberace's Theme Song Should Be 'Mad About The Boy'." Liberace sued, and was awarded $25 million in damages.
Liberace was the highest paid entertainer in Las Vegas throughout the '50s and '60s. He was fond of being lowered onto his piano bench by wires, when he wasn't being driven up to it in a Rolls-Royce.
On November 23, 1963, Liberace collapsed backstage and was taken to the hospital. "Renal failure," the doctors said. "He won't last long."
Liberace cleaned his costumes with carbon tetrachloride. Night after night he sat sweating under hot lights while his outfit slowly poisoned him. Laid up in a hospital bed, Liberace began to give his belongings away. He bought extravagant gifts for his mother and faithful brother George. Then one night, he claims to have been visited by a nun dressed in white. The doctors called his recovery "a miracle."
Liberace was at one time romantically linked with the actress Mae West, who was 26 years his senior. He dated a Norwegian ice skater named Sonja Henie with questionable links to the Nazi party, as well as actress Christine Jorgensen, the first widely-known transsexual. He was never married, but was once engaged to Elizabeth Taylor's stand-in, Joanne Rio.
On November 1, 1986, Liberace died of complications due to AIDS. His longtime manager Seymour Heller had attributed his diminishing health and weight loss to a "watermelon diet."
[Buy Desmond Dekker]
[Amazon's Liberace Store]
Posted by Mayana at January 8, 2010 3:54 PM