Of Service, Glad To Be
Please note: MP3s are only kept online for a short time, and if this entry is from more than a couple of weeks ago, the music probably won't be available to download any more.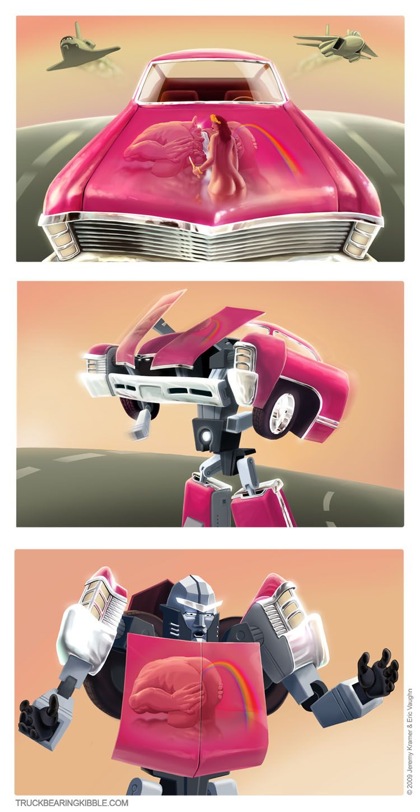 Speedometer - "Two Beat Beast"
Typin' on the typewriter. Typin' away. Typin' a story. 'Bout a New World Government. Ev'ryone has come to be little more existent than online personas. All geographical borders and property has been translated to the Internet, and all currency is exchanged and trade is done online. All production is virtual, all crises are virtual crises. Oh yeah. Right on. Feel it. The sympathies for disaster relief and the drive to fix the climate have become only visible through a vast network of eye screens that project government-approved news feeds and groupthink data onto elements in the physical world. The Matrix is a status update, essentially. The government garners mind-slaves through a wealth of pointless information, posing as real information, posturing as radical change, which is a substitute for reality, which is no change at all. Damn. Yeah. Bumpin'.
The Whitefield Brothers - "The Bastard"
The Whitefield brothers, Jan and Max, are a strange pair. Jan plays the flute and Max plays the drums, though it hasn't always been this way. Jan grew up playing the drums, and Max used to be quite adept at the flute. But when both brothers fell in love with the same young girl, Lena, everything changed. They fought ruthlessly, tirelessly, slam-dooringly all through their youth, and their music suffered. They were forced to continue playing music together by their parents. "It will straighten this whole business out," said their father, Nuth, "they will see what is really important." But it straightened nothing out. Instead, they found ways to sabotage their own performances, to make the other look bad. One time, Jan dipped Max's flute in a bucket of motor oil immediately before a show, and Max filled Jan's snare with cooked pancakes. It got so bad that Max suddenly issued a challenge, during practice, that they switch instruments. That Max would play the drums and Jan would play the flute. Their guitarist Heinrik, shook his head, he was tired of their antics. Jan agreed, feverishly, and they switched instruments. Both were certain that this would surely bring the band to its knees, that they would finally be free of this musical torture game. But instead, they discovered a natural talent, an inborn soaring skill for their new instruments. Like a plane nose-diving for the ground, that suddenly levels out, that sweeps soaring into the sky, they found new incredible heights. They soon forgot entirely about Lena, they wrote "The Bastard" with a smile and a grimace, with teeth bared.
[Buy Grazing in the Trash vol. 1]
[Buy Grazing in the Trash vol. 2]
(image from Truck Bearing Kibble a pbf-ish comic that's nice in its own right)
Posted by Dan at May 18, 2010 12:47 AM