OKAY PRETEND FOR A SEC
by Sean
Please note: MP3s are only kept online for a short time, and if this entry is from more than a couple of weeks ago, the music probably won't be available to download any more.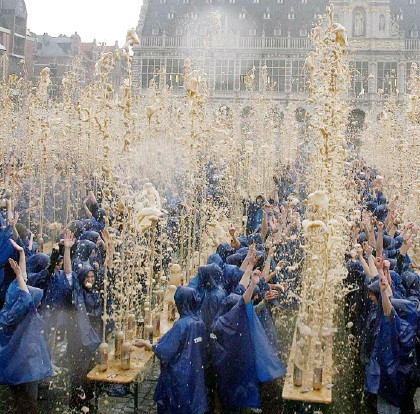 Ponytail - "Beg Waves". Ponytail get it exactly right in the opening track to Ice Cream Spiritual: electrically live and still marvellously composed, like a Duke Ellington suite for hoarse throats, scraped knees, joy. It's The Fall, not Deerhoof, I hear clearest in their song - but with fewer regrets, fewer chips-on-shoulder, just thrills & fears & squawk. Let's say you were arriving overnight from California, muscle-tired and underslept, but you have a whole day in front of you; let's imagine there's a million reasons to fall asleep but one big one to stay awake; let's imagine you have to go on and on and on; let's imagine you need a new reason to pump yr fist in the air. Well: here. Beautiful and squalid.
[Ponytail's Ice Cream Spiritual is out June 17. Get as excited as you like: album teaser here. From the ears that brought you Yeasayer.]
The Orchards - "Gemini". I remember we were in the basement. I had drunk a beer or two. I was in my late teens, unaccustomed to booze. My friends were talking beside me, two of them playing ping-pong. I had been sitting for a while, and then I stood up. And suddenly ALL AROUND ME the world was SPARKLING, was effervescent and fizzing, lights and glints and shines. And I was terrified and excited and panicked, thought maybe I was dying (though it was just oxygen & brain &c). Anyway, this is what is great about The Orchards' "Gemini" - the way at 1 minute 40 his strum & melancholy gets all streaked in zing, cobwebbed with shock, something splintering out- and in-side him in the brittle way that small epiphanies do.
---
You are a damn fool if you live in Montreal and do not go to see Stars Of The Lid on Tuesday night at the Masonic Temple. Just sayin'. (Bonus tip: Clues on Saturday, Robyn on Sunday. Yes it's a busy week.)
[photo source unknown - from the Leuven mentos + coke world record attempt]
Posted by Sean at April 28, 2008 12:04 AM