on almosts
by Sean
Please note: MP3s are only kept online for a short time, and if this entry is from more than a couple of weeks ago, the music probably won't be available to download any more.
Skúli Sverrisson - "Séria". Two weeks ago I almost died. We were skidding down a road near Selfoss, Iceland, on our way to Vik, and then suddenly as D accelerated we began, so softly, to slide. The car moved dreamlike, diagonally, over the ice. I touched D's hand where it held the wheel. I said something - I don't know what. And he said something to me. And then we were over, and over, and over. The sky flashed white in every window as our car fell off the road. It just fell. We flipped and flipped and flipped again, and I heard the sound of breaking glass.
When I opened my eyes I felt to see if I was all right. I was all right. The inside of our car was a mess. I didn't know which way was up. I remembered that mountaineer's instruction, for those trapped in an avalanche: Spit to find out which way gravity falls. I almost spat. But instead I looked out the window. The snowy ground was at my shoulder - the passenger side window.
It was with fear I turned to look at D. I didn't know what I might see. I thought of so many things before I looked at him: setting my life in order, touching this & that memory, before seeing what shadow might fall over the rest of my year. But there was D, shaken, shocked tears in his eyes, safe and hale and whole and my friend, hanging in the air by his seatbelt. We were ok.
Skúli Sverrisson (with Ólöf Arnalds) - "Vaktir þú". The next day we went to 12 Tónar, maybe the best record shop in the world. We had spent the day on a guided tour - to the waterfalls of Gullfoss, to the lake Thingvellir, to the geysers of Geysir and Strokkur. Now we were back in Rejkyavik, the sun setting, and we wanted music. One of 12 Tonar's owners greeted us as we entered. He wore a neat beard and a professor's jacket. He introduced us to the shop, explained how things worked, then made us neat little espressos. And we browsed the racks of avant garde classical and jazz, of folk and rock, all this icelandic music with cover-art I wanted pinned to my walls. Whatever we wished to hear, we took downstairs. We sat on old couches with our coffees, portable CD players set in our hands, and we scrabbled off the CDs' plasticwrap and listened.
Skúli Sverrisson's Séria is one of the CDs I bought at 12 Tonar, a recommendation of the owner. Many of the tracks are instrumental - webs of guitar-strings, organs, bass clarinets. Some, like "Vaktir þú", have vocals. (Though one song is sung by Laurie Anderson, most centre around the sad sea voice of Ólöf Arnalds.) I like it very much.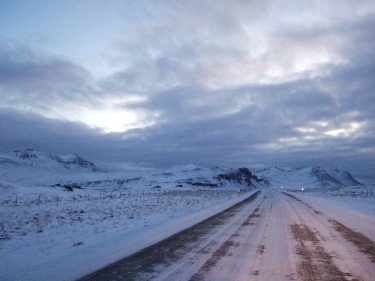 The next day we rented a car again, for two nights. I did all the driving. We went north. We went looking for the Northern Lights. I said the place-names out loud: Reykholt, Stykkish, Borgarnes, Akureyri. We rounded fjords and wove through volcanic rock. Snow lay over everything. Steam rose from the ground here and there. I wondered where all the clouds had gone. We learned that in its long dawns and dusks, Iceland's sky is a sky of pinks. One night we stood by the ice outside Grundarfjorthur and listened to birdcalls and watched something green-glimmering beside the stars.
As we drove we listened to the music we had bought - this album and others. "Séria" was our theme for the aurora borealis. "Vaktir Bu" was simply a song I love. There is something magic in this album. All things beautiful, glowing, but also vaguely disquieting. Songs of an absence. Ghost-songs, forget-me-nots, lullabyes for the days after an almost.
Posted by Sean at February 21, 2007 8:49 AM