OVERBIG APPENDIX
by Sean
Please note: MP3s are only kept online for a short time, and if this entry is from more than a couple of weeks ago, the music probably won't be available to download any more.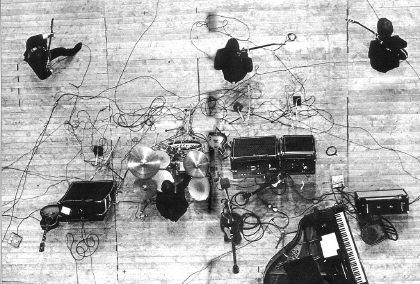 Young Coyotes - "Momentary Drowning". A song that's yell and thump but is still brilliantly slow - relaxed as it booms, as it dings and claps and bobs. Young Coyotes play this music like they've figured it out, like they've solved it. (The reason there are many bands who try to sound like this is that this sounds very good.) It's too early to tell if this is the kind of band that becomes a reason to go out at night, a reason to drive for hours, a reason to shell out bucks and stand in the sun. But it might be. They are young. Eighteen months from now we might all be standing around agog, like kids at a giant prayer meeting, faith-healed. All our denials rendered ridiculous: I can't be jaded because I am sodalite! I can't be drowning because I'm made of ice! I can't be in love because I'm unable! I can't be alone because my hands are clasped! Let's hope.
Denver's Young Coyotes are unsigned. [MySpace/blog]

Al Green - "Just For Me". Al lays it on a little thick, here. But it's refreshing - no, beautiful - to discover that the man can at 62 years old find just as much reason to, um, lay it on. That his heart's still just as big, just as sweet, just as pink and hungry. Me, I treat "Just For Me" not as a love song but as a toast: here's to this feeling and its persistence. [buy]
---
Montreal shows! There's a great one at Casa tonight (Thursday), as the Luyas play with Burial Song for $7.
With Suoni Per Il Popolo on this month, there are amazing gigs almost every June night. It's pretty wild. My highlights, trying to speak even half-reasonably: Greg Macpherson, Ravens & Chimes, Mt. Eerie (at Casa!), Vic Chesnutt + Silver Mt Zion, Sandro Perri, Tren Bros, Wyrd Visions, Retribution Gospel Choir, Free Fall, Frog Eyes and Shearwater, Adam & the Amethysts, White Hinterland and Tuneyards (!) on the 25th, Leonard Cohen (!!!)... ok i am going to get a headache. Also announced yesterday: BOBAN fuckin' MARKOVIC is coming with his 11-man band in July. (And we're not even talking October's Pop Montreal featuring Burt Bacharach accompanied by Julie Doiron and Final Fantasy, uh yet.) Phew. This is a nice place to live.
[my source of the top-down Beatles photo]
Posted by Sean at June 5, 2008 3:10 AM