PARDNER & PARDNER
by Sean
Please note: MP3s are only kept online for a short time, and if this entry is from more than a couple of weeks ago, the music probably won't be available to download any more.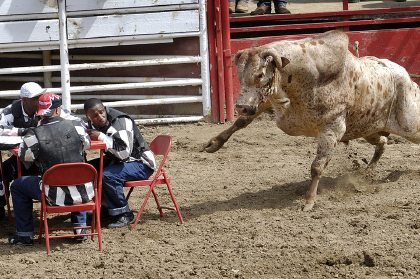 Sean Savage - "Here She Comes!!!". On November 19th, Sean Savage was kidnapped by an unknown woman. She wore a gingham scarf over her mouth. She had black bangs and blue eyes. She strapped Mr Savage to a large red wagon and climbed onto her bicycle and proceeded east. At first Mr Savage struggled. He pulled and bucked at his bindings. He kicked the side of the wagon. His thrashings knocked the wagon onto its side, whereupon he was dragged for ten feet in the trail's hard dirt. She got off her bike, propped the kick-stand, came back and righted him. She flicked pebbles from his cheek and smoothed his hair. She got on her bicycle and they rode. They rode & rode. In time, Mr Savage fell in love. There were orange-trees everywhere and he was in love. The spokes of her bicycle were made of sterling silver. [MySpace / Sean plays in Silly Kissers / via Goldkicks]
The Generationals - "When They Fight, They Fight". Rob admired his elbows. He dripped onto the linoleum, standing by the full-length mirror, nude and admiring his elbows. He had always thought his elbows were his finest feature. They were smooth, pointed, secretly strong. He jabbed once or twice, admiring the way they jabbed. He opened and closed his arm. Yes, his elbows. He mouthed the words to the mirror: Oh, these elbows. [thanks Brooks! / buy / MySpace / website]
---
Update: McSweeney's has posted my new article, SING A SONG FOR SISTER SUVI. It is a tribute to a late, great Montreal band that I have written about before (featuring Patrick Gregoire, Nico Bann and Tune-Yards' Merrill Garbus).
Posted by Sean at November 19, 2009 10:50 AM