PLEASE, LET ME IN
by Sean
Please note: MP3s are only kept online for a short time, and if this entry is from more than a couple of weeks ago, the music probably won't be available to download any more.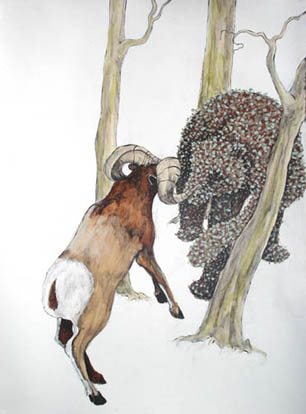 (painting by Ryan McLennan)
Jay Bharadia - "Snowy Day" For when you wake up one night with spraypaint on your igloo, with grafitti streaked and swirling in the sky. For when you hunch down by the hole in the ice, wait for a seal to surface, rap in french. For when you are the only human being for a hundred miles and yet have a song so good that you can already hear people tethering their sleigh-dogs to get the hell over here. The press release says British, thrift shops, French and Indian parents. But me I hear an awesome inuit hip-hop, an iceberg funk, the soundtrack for the night of a lunar eclipse. It's not often I hear a song and pronounce, out loud, the word: "Siiick." Ladies and gentlemen, introducing Jay Bharadia.
[buy / stream the record]

Jose Gonzalez - "Fold". We don't usually sing about love's hesitation. About slow, scared choices. Taking time / to walk down on the ice. Usually we sing about breathless dives, about sudden head-over-heelses. The hesitation we keep for when we're alone in our rooms, talking whispery to ourselves, reading the titles on the spines of our books and finding unbidden messages there. Tender is the Night. Briar Rose. But Jose Gonzalez just sings it. Where did he get this courage? If you sing her doubts, you can no longer tell yourself that she has none. And if you sing your own hesitations, you can't later pretend them away - to yourself or to her. This is why when we listen to sad songs we sometimes do not sing along. We pretend they're other peoples' stories. Please don't let me down / this time, he sings, and I don't hear the admonishment of an unfaithful lover. Instead I hear a man who pauses before he begins each verse, unsure whether he has the will to start again. I hear a man who is tired of the way his previous loves have passed; how after each snowy, sweet winter, there's a spring - and a thaw. Taking time / to walk down on the ice. It's the thing we all hope, selfishly, secretly, as we take our lovers in our arms. Please don't let me down.
[buy In Our Nature. And a few further comments: The critics who dismiss Jose Gonzalez as a typical acoustic mumbler are doing him an extreme disservice. It doesn't matter that "Heartbeats" is popular, is a soundtrack staple; with his band Junip and also solo, his songs are troubled, ambivalent, hard to make out. And In Our Nature is even better than Veneer; don't be fooled into thinking it's comfortable.]
Posted by Sean at September 27, 2007 7:00 AM