Prevenge
Please note: MP3s are only kept online for a short time, and if this entry is from more than a couple of weeks ago, the music probably won't be available to download any more.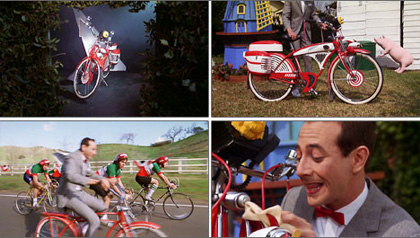 A trail of jellybeans, a licorice rope tow, a bubble tape conveyor belt, a melty fudge path. Past shady lanes, perfect row houses, machine-made ponds and parks. A bright sunny day, but a nice dry heat. One appointment and it's not til later after supper. Passenger riding the path, the belt, the trail, to a particular quiet pink house on corner Birch and lane Hearth. Round the streetlight and set the sun down like a puppy, so it can run off and be free, and slide slowly up the driveway into the garage. The door closes, and it's dark, strike a match, only to read that you're surrounded by fireworks. [buy single for 3$]
Cotton Jones - "I Am The Changer"
This year, I'll make a resolution to have more conversations with living people than with dead ones. I'll start bottling fresh air when I find it. I'll only have dreams about things less exciting than what I'm actually doing. I'll grow a secret beard. I'll hit up strangers for favours I wouldn't ask of my own family. "Hey, could you call this number and tell the person that answers that it's not going to work out? I'd appreciate it." I'll help make one situation a day better and one situation worse. I'll grow a secret foot taller. I'll redefine "New Age". I'll gradually begin to float. I'll master taxonomy so I can tell people exactly what they are to me. I'll behave disarmingly, in doing my part for world peace. I'll get sick thinking about getting sick. I'll learn to braise all my food, like, all of it. I'll do it all to the toe-tap of "I Am The Changer". I'm running out of time. [pre-order]
Posted by Dan at January 6, 2009 12:56 PM