RIP JACK
by Sean
Please note: MP3s are only kept online for a short time, and if this entry is from more than a couple of weeks ago, the music probably won't be available to download any more.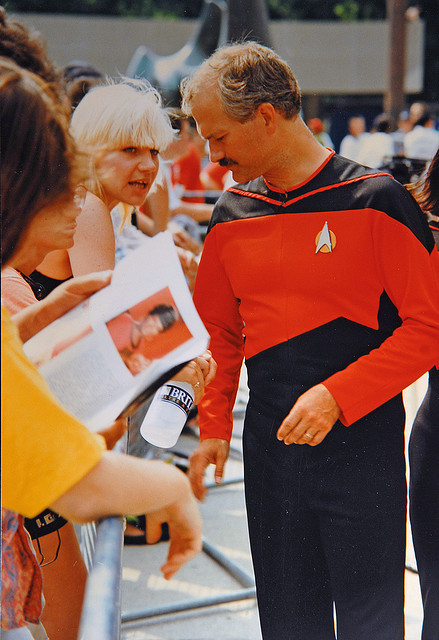 John Tavener - Eternal Memory - 3. With Great Peace & Serenity
performed by Steven Isserlis, Vladimir Spivakov and the Moscow Virtuosi.
My enduring memory of Jack Layton, the leader of Canada's left-wing New Democratic Party, who died this morning, was that time Miranda saw him at Idée Fixe. Idée Fixe is a dive bar, my favourite. Jack was there with his Montreal team, swigging a big bottle of 50 and playing pool. It wasn't that he was "like us" - of course he wasn't, he was a lifetime politician, moustached and jolly, chronically un-hip, so clearly a dad who tells lame jokes and waits in the car with his hands on the steering wheel, for no matter how long. But Jack was there, at our dive bar, when he could have gone to any other bar. He came because it was the closest one, quiet, with a free jukebox. Idée Fixe is dingy, a little sad, full of sketchy characters. But who gives a shit, right? I could imagine Jack grinning his grin and asking, "Is the beer cold?"
Another time, at the parade for St-Jean-Baptiste, a parade I had always been a little scared of, there was Jack, marching. I was an anglo in Montreal and I always wondered whether I was welcome at this Quebecois national holiday. I think I was (& think I am). But it took me a while to feel that way. Jack, from Toronto, didn't seem like he ever hesitated. He strolled and waved. I felt like he was saying: "Who gives a shit. Let's get together."
In politics, Jack always seemed to be saying: Let's get on with it. Let's get on with getting to the moment when we live in a fairer, juster, better country.
His cheeriness and optimism was so persistent it sometimes felt fake: how could it not be fake, we asked. But there is a difference between a lie and a performance. I believe Jack was a persistent optimist, an unflagging hoper, but in those instants when his optimism was impersistent, when his hope flagged, he still behaved like the person he wanted to be. Kind, open, ready for new friendships. For Jack, there were more important things than self-expression. When he was feeling stricken, frustrated or afraid, and we didn't need to see those things, he never showed them. His own story, his inner life, was never so important as the other things he wished to communicate. I believe in us.
I didn't agree with every decision Jack Layton made, as a politician. I don't stand behind every policy of his NDP. But I was with him, mostly. My friend Patricia wrote, I believe in the possibility of integrity in true leaders. I would change this slightly: I want to believe in the possibility of integrity in true leaders. Jack helped me believe that things can work out. That we can overcome our petty private stories, our grievances, for the sake of social justice and the collective good. It makes me very, very sad that he is gone.
The third movement of Tavener's "Eternal Memory" feels, here, like a song of death, a song you would hear at a funeral, ushering the departed as he rises to the afterlife. But I do not mean it this way. I imagine instead that this is a song of dawn moments. When you lie in your bed, flickering in and out of sleep, and feel - as I'm certain Jack did - that distant sense of possibility. When you can hear the faintest sounds of a future paradise.
Let's keep moving.
Rest in peace, Jack Layton. Sincere condolences to your family and friends.
I was proud to put my faith in you.
---
Update, 12:55pm: Jack Layton's final letter, to us.
Posted by Sean at August 22, 2011 11:22 AM