ROYAL CITY GIVE-AWAY
by Sean
Please note: MP3s are only kept online for a short time, and if this entry is from more than a couple of weeks ago, the music probably won't be available to download any more.
Asthmatic Kitty's recent decision to issue a b-sides compilation for Royal City was one of my favourite pieces of news this year. This Guelph, Ontario band (I don't get to say that very often) are one of Canada's all-time great indie groups, but due to the modesty, restraint and burnished gold of their folk-rock sound, they never received their due. (Let's put it this way - celebrating Arcade Fire just pre-Funeral, it's Royal City I compared them to.) I'm so glad to have a label like Asthmatic Kitty - American! critically acclaimed! Sufjan! - singing their praises, trying to teach a few more people about what we all took for granted.
Royal City folded after 2004's Little Heart's Ease, and their original label, Three Gut, packed it in the following year. That was the last time I wrote substantively about Royal City (I've just put those songs back online), and we had Guelph's own Tim Kingsbury, now of Arcade Fire, write an epitaph too. (By the way, I've changed my mind about Royal City's Alone at the Microphone, which I sneered at here. It's a great record.)
Okay okay, but even more hoorayingly, Asthmatic Kitty's Royal City comp is gorgeous. The most beautiful CD object I've seen in ages, weird & different, made with thick board and metallic ink, and utterly worth purchasing whether you're an old fan or new. Obviously, the music is great - you can stream the whole thing at MBV. But we're also celebrating the album's release in even greater style, with a Said the Gramophone give-away. (MBV and Chromewaves are doing them too.)
Up for grabs is one set of Royal City art-prints, part of a hand-numbered series of 30. These giclee prints are 6 1/2" x 6 1/2", archival ink on 310gsm German Etching stock. They are beautiful. Ryan Catbird made them with the help of Three Gut founders Lisa Moran and Tyler Clarke Burke, and used Tyler's original artwork from all three formal Royal City releases, 2000's At Rush Hour The Cars, 2001's Alone At The Microphone, and 2004's Little Heart's Ease. Most of these sets went to the band and label, but one will go to our readers.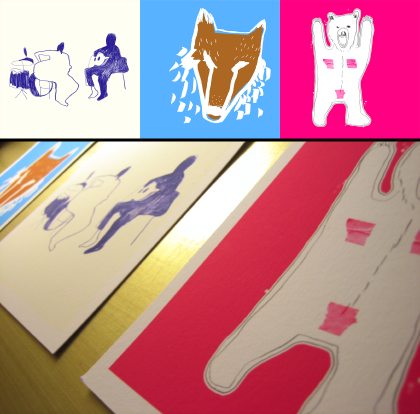 To win our set of prints, listen to the songs below and tell us (in the comments) what we should have put beside [at least] one of them, instead of that boring release info. The contest closes 11:59 pm on Sunday, June 28. Thanks to Ryan for organising all this.
Royal City - "I Called But You Were Sleeping" (b-side, reissued on 1999-2004)
Royal City - "Cabbage Rolls" (from Little Heart's Ease)
[Buy Royal City, 1999-2004.]
(ps: happy st-jean baptiste!)
Posted by Sean at June 24, 2009 8:00 AM