Runners-Up: Wonderful Video Contest Winners
by Sean
Please note: MP3s are only kept online for a short time, and if this entry is from more than a couple of weeks ago, the music probably won't be available to download any more.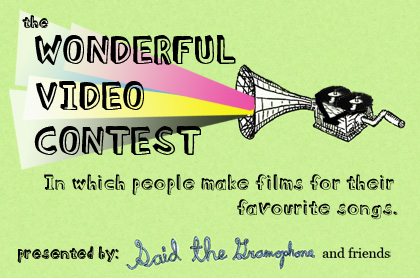 Ladies and gentlemen, boys & girls, I am delighted to be today announcing the second installment of winners in the Wonderful Video Contest. We asked our readers to create movies they love for songs they love, and well more than a hundred films got thrown our way. Our first batch of favourites was posted last week, the Top 5 will be shared a week from today, but right now, right here, here are four more of the most remarkable submissions.
As Dan said last week, the comments today aren't for us, they're for the filmmakers, so please tell them what you think, because they would love it. You would love it too.
9. Orillia Opry - "I Lied"
video by Dan Woodward
dan @ ajisignal.com
The moon landing as Sunday drive. It's only a matter of moments before you put aside your expectations for what a video of "I Lied" would look like and become swept right up in the ambling (CG machines have never
felt
so "ambling" to me!) aesthetic of this piece. As soon as the cymbal crashes in that plume of the rocket's wake, you know there's no looking back. I like to imagine two things when I watch this: a) that getting to the moon is an achievement better set to heartfelt strumming folk than to giant orchestral booming, and b) that in the last shot that capsule is empty, and the people have decided to stay, or pressed "go" by accident when they weren't inside. (awarded Secret City prizepack,
Madame Tutli-Putli
DVD)
--
8. The Knife - "Still Light" (Little Forest)
video by Rinee Shah
rinee.shah @ gmail.com
The world of this video is strange and terrifying, with its own slow & scary logic. The bears have lights in their eyes, the roots weave webs, and when a girl wakes she finds herself alone. A tree falls in the forest and we don't hear a single sound - we're suspended in a different moment, during & before, and only later do we discover the damage.
Is it still light outside?
The Knife ask, and you can imagine Rinee dreaming this world straight through to dawn. (awarded Vice Records and Young God prizepacks,
Madame Tutli-Putli
DVD)
--
7. Devendra Banhart - "Dragonflys"
video by Eric Portis
eric.portis @ gmail.com
Devendra Banhart's song is just fifty seconds long, but Eric Portis uses those fifty seconds even more finely than Devendra does. When the video literally rises into its final moment, when the song sings its title & everything makes a beautiful, incandescent sense, we're in a place of caught breath and small majesty. We're in a paradise, really; one that's hand made. (That means it's a paradise we too could make with these hands.) Actually breathtaking. (prize tbd)
--
6. Woodhands - "Can't See Straight"
video by 47 Friends
timothy.moore @ gmail.com
I could write an essay on this one. I'll try to keep it short, but just believe me that I get overwhelmed when I watch this video. The storytelling is executed in such a way that it's
exciting
to figure out what's going on, the filmmaker creates little mysteries, makes it exhilarating to watch, and watch, and watch. Nothing is a mistake, every shot, every action, has a purpose. Which is a credit to the performers; a stark but fascinating intermingling of harsh clowning and realist sincerity. A quasi-hopeful picture of how art can take over, ruin, or give meaning to, your life.
We contacted Daniel Werb from Woodhands, and he loves it:
"Tim Moore's video is absolutely fantastic and we can't stop talking about it over here. Not only are we honoured that Tim would chooseour song 'Can't See Straight' as a basis for his video, but it's amazing how he and his crew have managed to tease out a great story from thesong's brief lyrics. It all fits together so well and manages to stay true to the emotional kernel of the song. We're super stoked."
(awarded 4AD prizepack, Madame Tutli-Putli DVD)
--
So that is this week. Next Monday: our 5 stupendous & favourite videos.
Posted by Sean at February 25, 2008 12:37 AM