Said the Guests: Daria Tessler
by Sean
Please note: MP3s are only kept online for a short time, and if this entry is from more than a couple of weeks ago, the music probably won't be available to download any more.
We came across Daria Tessler at a small shop/gallery in Edinburgh. In her prints, spirits stalked forests, trees grew from boats and flatbed trucks. I thought I could hear raining, on that sunny day, and that is always a good sign that you are on to something.
Daria lives in Brooklyn. She loves music, and she loves to make pictures. She whipped these drawings up within days of being invited, and from what I understand all the music was listened to via the cricklycrack of a vinyl turntable. Her musical choices are disparate, sparking, full of life. So are her images.
Over at Daria's website you can buy prints, books, custom painted shoes, t-shirts, and even some remarkably prescient gramophone stationery. So do.
Thank-you Daria. Please tell her what you think! - Sean
Gary Burton - "Some Dirge"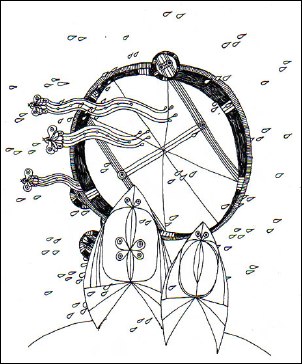 Daria Tessler - "Halibut Passing" (click for full size) (buy Gary Burton's A Genuine Tong Funeral)
Sun Ra - "Pyramids"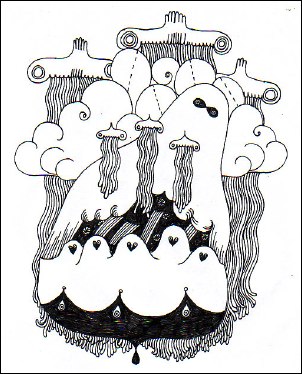 Daria Tessler - "Cloud Jelly" (click for full size) (buy Sun Ra's Solar Myth Approach, Vols. 1-2)
Hella - "1-800-GHOST-DANCE"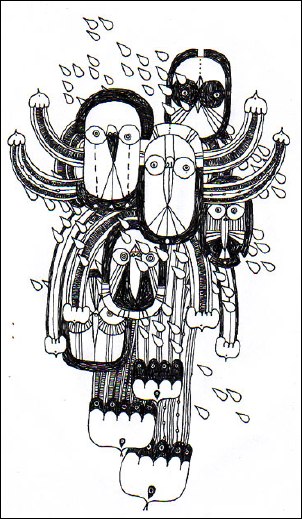 Daria Tessler - "Birds and Beasts" (click for full size) (buy Hella's Hold Your Horse Is)
[Daria Tessler lives in Brooklyn. This is her website, where many works are for sale. A couple of Daria's prints are in a show on right now at Giant Robot SF, but she is most excited about starting a Mix Of The Month CD Trade - swapping mix CDs with custom art.]

(Previous guest-blogs: Clem Snide, Marcello Carlin, Beirut, Jonathan Lethem, Will Butler (Arcade Fire), Al Kratina, Eugene Mirman, artist Dave Bailey, Agent Simple, artist Keith Andrew Shore, Owen Ashworth (Casiotone for the Painfully Alone), artist Kit Malo with Alden Penner (The Unicorns) 1 2, artist Rachell Sumpter, artist Katy Horan 1 2, David Barclay (The Diskettes), artist Drew Heffron, Carl Wilson, artist Tim Moore, Michael Nau (Page France), Devin Davis, Will Sheff (Okkervil River), Edward Droste (Grizzly Bear), Hello Saferide, Damon Krukowski (Damon & Naomi), Brian Michael Roff, Howard Bilerman (producer: Silver Mt. Zion, Arcade Fire, etc.). There are many more to come.)
Posted by Sean at October 25, 2006 4:00 AM