Said the Guests: Eugene Mirman
by Sean
Please note: MP3s are only kept online for a short time, and if this entry is from more than a couple of weeks ago, the music probably won't be available to download any more.
I've only seen Eugene Mirman once. It was in Scotland, at the Fringe Festival, in a room of nimrods with crossed arms. I meanwhile was collapsing like a marionette whose pins and strings had been removed: just a pile of wood for Eugene to tiptoe over to, giggling, and light on fire. Eugene Mirman is a comedian who doesn't rely on cheap gags. Oh he uses cheap gags, sure, when he can. He's no fool. (NB: He is a fool.) But no what Eugene relies on are knife-tricks and cloud-shapes; dreams; the gentle, the offensive, and the absurd. He's a wonder, a laughbomb, a "friend".
Eugene Mirman is signed to the same label as Nirvana and the Postal Service; he frequently opens for Yo La Tengo; he writes a blog for the Village Voice; Dan blogged about him; and he so very kindly agreed to tell us about some cakepunch songs.
Do say hello. (Thanks Eugene. And hi!) -- Sean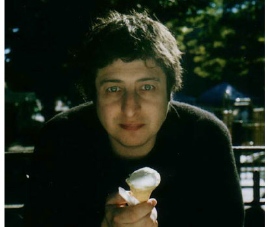 I would like to say that I can't play any instruments or sing or anything. I don't know how to talk about music in much of a way outside of saying something is pretty or annoying, lyrically pleasing, maybe energetic, etc. With that in mind here are some pretty songs with pleasing lyrics and some energetic ones.

Robyn Hitchcock - "She Doesn't Exist"

I love this song. Some of my favorite things are sad and pretty (like you! — let's meet up.) When I was a teenager I heard Robyn Hitchcock and loved him, at first for his somewhat goofy songs like My Wife And My Dead Wife, and then eventually for perceptive, obtuse/ sincere love songs and abstract analogies. Plus I like beautiful melodies (sorry, John Cage.) At some point I began a tradition of listening to this song every time I broke up with someone. Also, you can start your own tradition. For instance, every time you have sex with someone give them a thumbs up and say, "Good job buddy." [buy]

Jonathan Richman - "Velvet Underground"
This song combines a lot of what I like — fifties sounding music and the Velvet Underground. I love the Velvet Underground (as everybody does, but why tell you to go and buy the newest re-re-re-issue of Loaded with extra photos? You should though, it's great.) I guess you probably have Jonathan Richman too. I don't know what to tell you. Should I suggest you get the Diamond Nights EP? It's like the Cars but modern and sexy.

White Hassle - "Star Position"

Guess what? I like White Hassle a lot. I first saw them at a small one day music festival in New England like 8 years ago. Unlike countless assholes, they have finally figured out how to blend country, rock, turntables (this song doesn't use them), and pretty melodies with charming lyrics. They often have pots and pans and things as part of their percussion. [buy]

The Essex Green - "The Late Great Cassiopia"
This is a great indie-pop song. I don't know what else to say exactly. I'm right. It is. Listen to it.

In conclusion, I have a comedy album coming out May 9th on Sub Pop called En, Garde Society! Feel free to buy it. It'll have a DVD with it as well. Two discs? Yes.

[This is Eugene Mirman's website, with audio and video and more. This is his blog. And this is where you can pre-order his new double-disc album. You can buy his previous album (which is awesome) here.]

(Previous guest-blogs, in and out of the Said the Guests series: artist Dave Bailey, Agent Simple, artist Keith Andrew Shore, Owen Ashworth (Casiotone for the Painfully Alone), artist Kit Malo with Alden Penner (The Unicorns) 1 2, artist Rachell Sumpter, artist Katy Horan 1 2, David Barclay (The Diskettes), artist Drew Heffron, Carl Wilson, artist Tim Moore, Michael Nau (Page France), Devin Davis, Will Sheff (Okkervil River), Edward Droste (Grizzly Bear), Hello Saferide, Damon Krukowski (Damon & Naomi), Brian Michael Roff, Howard Bilerman (producer: Silver Mt. Zion, Arcade Fire, etc.). There are many more to come.)
Posted by Sean at April 26, 2006 3:00 AM