Said the Guests: Johnnie Cluney
by Sean
Please note: MP3s are only kept online for a short time, and if this entry is from more than a couple of weeks ago, the music probably won't be available to download any more.
Said the Gramophone is a big fan of Daytrotter, that strange young project of words, art and sound, where artists are invited into an Illinois studio as they travel through one of America's more barren stretches. These sessions are presented for free download, accompanied (usually) by Sean Moeller's precise, curling writing; and paintings by a man called Johnnie Cluney. When I visit Daytrotter it's not the music that first arrests me (not even in the case of Bonnie Prince Billy's recent & marvelous session): it's Johnnie's art. The works are full of life and movement and clumsiness, ripe with accident and a Polaroid's fertile glance. But, yes, painted and drawn. The work of hands.
It was very obvious to me that I should ask Johnnie to choose a couple of favourite songs for us, and draw them. So I asked him. Sean Moeller helped me transmit the message, since Johnnie rarely checks his email. And Sean picked up the paintings and scanned them for me, since Johnnie doesn't really know how. So we really all owe Sean some thanks. But first and foremost (and I hope Sean won't be offended), let's raise a glass of strawberry wine to the man with ink on his fingers, the fine Mr Johnny Cluney. Please make him welcome; and enjoy his works.
- Sean (Michaels)
Paul McCartney - "Lovely Linda"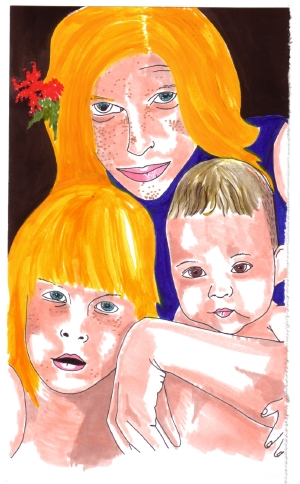 Johnnie Cluney - "The Lovely Linda"" (click for full size) (buy McCartney)
The Beatles - "Flying"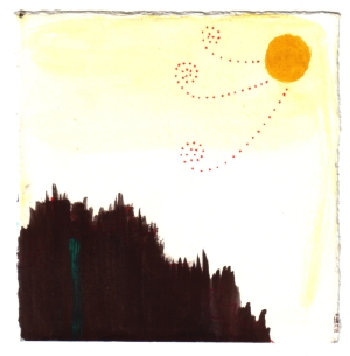 Johnnie Cluney - "Flying" (click for full size) (buy Magical Mystery Tour)
[johnnie cluney is a 24 year old musician/artist from davenport, ia. johnnie has been drawing pictures for most of his life. he enjoys all mediums. you can see more of his drawings at daytrotter.com or you can listen to his music at www.myspace.com/quietbears]

(Previous guest-blogs, in and out of the Said the Guests series: Beirut, Jonathan Lethem, Will Butler (Arcade Fire), Al Kratina, Eugene Mirman, artist Dave Bailey, Agent Simple, artist Keith Andrew Shore, Owen Ashworth (Casiotone for the Painfully Alone), artist Kit Malo with Alden Penner (The Unicorns) 1 2, artist Rachell Sumpter, artist Katy Horan 1 2, David Barclay (The Diskettes), artist Drew Heffron, Carl Wilson, artist Tim Moore, Michael Nau (Page France), Devin Davis, Will Sheff (Okkervil River), Edward Droste (Grizzly Bear), Hello Saferide, Damon Krukowski (Damon & Naomi), Brian Michael Roff, Howard Bilerman (producer: Silver Mt. Zion, Arcade Fire, etc.). There are many more to come.)
Posted by Sean at September 7, 2006 3:00 AM