Said the Guests: Keith Andrew Shore
by Sean
Please note: MP3s are only kept online for a short time, and if this entry is from more than a couple of weeks ago, the music probably won't be available to download any more.
See the thing with Keith Andrew Shore is the vividness. The way his ink lines loll together, the way his colours stream, the way all the true things of life - gorillas, faces, mountains, girls - sit, stand and lie but also seem ready for you to crawl in and join them: your mannerisms, hopes and contradictions rendered in hand-drawn lines, curves, dots. Drawings that sit on the page (or the screen) and clang, life ringing out of them like old cymbals proudly hit.
Keith agreed to draw two of his favourite songs. The songs are good - they are by two of the best, - but it's Keith's art that renews them. Dusty tunes imbued with fresh smoke, wide-open mouths, and yeah gorillas.
As you listen, do click on the artworks to see them full-size. They are best that way!
See more of Keith's (jaw-dropping) stuff at KAS Projects, or in LA at The Lab 101's 'Rattle the Chandelier' group show in June. (The show is curated by Mr Shore.) There are prints and originals to be purchased at MarketEast, Tiny Showcase, or by writing him direct.
-- Sean
Johnny Cash - "The Big Battle"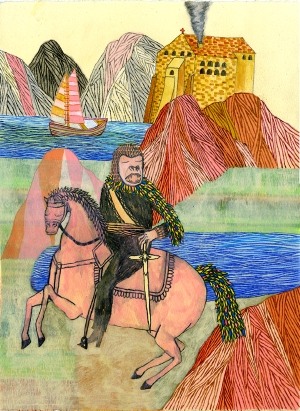 Keith Andrew Shore - "A Mountain Home for my Horse and I" (click for full size)
Leonard Cohen - "The Old Revolution"
Keith Andrew Shore - "The Wild of the Afternoon" (click for full size)
[Keith Andrew Shore resides in a small ghost town along the Delaware River. His newest drawings and paintings show affection for Civil War battles, long locks of hair, angry gorillas, and mountainous landscapes. Recent projects include a wallet and t-shirt design for The Shins, as well as illustrations for
ReadyMade, Complex, The Believer, McSweeney's
and
Art Prostitute
.]
(Previous guest-blogs, in and out of the Said the Guests series: Owen Ashworth (Casiotone for the Painfully Alone), artist Kit Malo with Alden Penner (The Unicorns) 1 2, artist Rachell Sumpter, artist Katy Horan, David Barclay (The Diskettes), artist Drew Heffron, Carl Wilson, artist Tim Moore, Michael Nau (Page France), Devin Davis, Will Sheff (Okkervil River), Edward Droste (Grizzly Bear), Hello Saferide, Damon Krukowski (Damon & Naomi), Brian Michael Roff, Howard Bilerman (producer: Silver Mt. Zion, Arcade Fire, etc.). There are many more to come.)
Posted by Sean at March 1, 2006 5:07 AM