Said the Guests: Kit Malo with Alden Penner
by Sean
Please note: MP3s are only kept online for a short time, and if this entry is from more than a couple of weeks ago, the music probably won't be available to download any more.
This week Said the Gramophone hosts a two-part guestblog that has long been simmering, carrots and potatoes and swede. Kit Malo is a Montreal artist. Alden Penner is a Montreal musician, who was one of The Unicorns (RIP). Today, and on Thursday, Kit and Alden are sharing things with you.
The music comes from Alden's as-yet-unreleased score for The Hamster Cage, an upcoming film by Larry Kent.
The paintings and drawings come from Kit Malo.
Alden's instrumentals are modest and kindly. There's some mischief but mostly it's a breezy, guitar-and-harmonica tra-la-la, something for Wind in the Willows river-rides and spring day picnics.
Or, if you were to ask Kit Malo, for other things.
Kit's art is a magic thing that only seems half-real: universes caught behind out own but peeking through. Small faces in the water, invisible responsibilities, secret friends, tails leading from one creature's heart to another one's belly (thick-and-thin as an ink line). Connections you can't, but do, see. And the implicit promise that the same thing that ties a peaceful raincloud to a sullen sailor, a mousy boat to a sandy sea, spoonfuls of siblings to their larger twin... might also connect you (hiya!) to them.
Alden's music here may seem too peaceful, almost incidental. But Kit has peopled it. And once peopled, a song's no longer just a song: it's something that binds all those who listen. It's like sharing a birthday. Or falling in love.
Two more songs and two more images on Thursday. Please make Kit and Alden as welcome as they deserve. -- Sean
Alden Penner - "Sourcewater"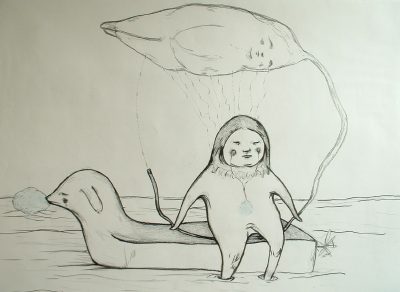 Kit Malo - "Sourcewater" (click for full size)
Alden Penner - "Way Gone"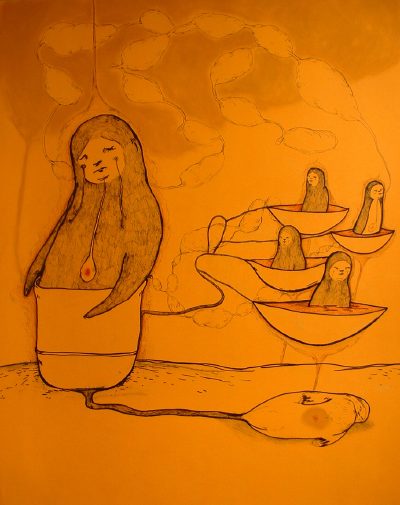 Kit Malo - "Way Gone" (click for full size)
[Kit Malo lives in Montreal. You can see more work at lambs among wolves. Some of Kit's work is currently on display, hanging on strings, f-f-f-floating, at Calgary's international arts festival, Mutton Busting. (look!)]
[Alden Penner lives in Montreal. He will be releasing the music from The Hamster Cage later this year. He will be playing some shows soon with a violinist called Adam. The first show is in Philadelphia on March 13th, at the First Unitarian Church. More dates to be announced. If you would like to write to Alden, please do: c.p. 61025, 4401 Notre-Dame Ouest, Montreal, Quebec, H4C 3N9.]
(Previous guest-blogs, in and out of the Said the Guests series: artist Rachell Sumpter, artist Katy Horan, David Barclay (The Diskettes), artist Drew Heffron, Carl Wilson, artist Tim Moore, Michael Nau (Page France), Devin Davis, Will Sheff (Okkervil River), Edward Droste (Grizzly Bear), Hello Saferide, Damon Krukowski (Damon & Naomi), Brian Michael Roff, Howard Bilerman (producer: Silver Mt. Zion, Arcade Fire, etc.). There are many more to come.)
Posted by Sean at January 31, 2006 3:00 AM