Said the Guests: Matthew Feyld
Please note: MP3s are only kept online for a short time, and if this entry is from more than a couple of weeks ago, the music probably won't be available to download any more.
Matthew Feyld lives in Saskatoon, Saskatchewan, Canada. Saskatchewan is more often a place of wheat than of wonders - but you can never predict what will appear from under that big sky.
He's an artist I discovered utterly by chance, stumbling across his Flickr page, but immediately he had snared me. I was caught up in the struggles of his characters and their enormous heads. There are swords, bears, beaks, masks, egg hats, shoes that see. There's whimsy and play, but also so much wide open space: room for loneliness, lostness and the strange.
Feyld looses a new drawing or painting almost every day, and I remain mesmerized by his parade of imagery. Inviting him to draw for us, - illustrations of a couple of favourite songs, - was the most obvious thing in the world. And I was so delighted that he agreed.
Please, please, please, leave a comment and tell him what you think.

These images look much better full-size. Click on 'em!
The Mountain Goats- "Magpie"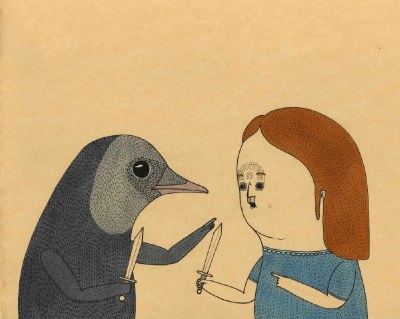 Matthew Feyld - "Magpie"" (click for full size) (buy The Sunset Tree)
Casiotone for the Painfully Alone - "casiotone for the painfully alone in a green cotton sweater"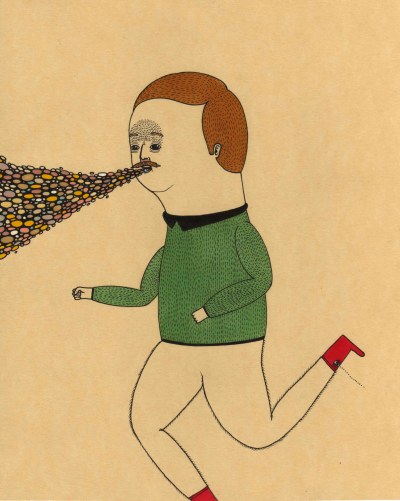 Matthew Feyld - "casiotone for the painfully alone in a green cotton sweater" (click for full size) (buy THE FIRST TWO ALBUMS)

[Matthew Feyld, Saskatoon based artist, is a lad who grew up with a birth defect that made his head swell unbeliveably. this happened at the worst times possible... during show and tell... at the science fair... on his first date... it happened from stress. he found that keeping calm helped his head stay normal and drawing, painting, scribbling was his cure. his work is almost voodoo to keep his swollen head from reappearing. it recreats his greatest fears. beady eyed monsters with giant ballon heads fighting off the world in tights. See more of his work at flickr; all works are for sale by contacting Matthew.]

(Previous guest-blogs: The Weakerthans, Parenthetical Girls, artist Daria Tessler, Clem Snide, Marcello Carlin, Beirut, Jonathan Lethem, Will Butler (Arcade Fire), Al Kratina, Eugene Mirman, artist Dave Bailey, Agent Simple, artist Keith Andrew Shore, Owen Ashworth (Casiotone for the Painfully Alone), artist Kit Malo with Alden Penner (The Unicorns) 1 2, artist Rachell Sumpter, artist Katy Horan 1 2, David Barclay (The Diskettes), artist Drew Heffron, Carl Wilson, artist Tim Moore, Michael Nau (Page France), Devin Davis, Will Sheff (Okkervil River), Edward Droste (Grizzly Bear), Hello Saferide, Damon Krukowski (Damon & Naomi), Brian Michael Roff, Howard Bilerman (producer: Silver Mt. Zion, Arcade Fire, etc.). There are many more to come.)
Posted by Sean at December 6, 2006 3:00 AM