Said the Guests some more: Katy Horan
by Sean
Please note: MP3s are only kept online for a short time, and if this entry is from more than a couple of weeks ago, the music probably won't be available to download any more.
When we invited Katy Horan to make pictures of some of her favourite music, she wrote back a couple of weeks later to say that the first song to draw was obvious - it was Devendra Banhart's "Mama Wolf", - but that she needed time to cook and simmer before choosing the others. And so this is what we did. She drew-and-painted-and-glued "Hey Mama Wolf", we posted it, and then we left things to stew.
And then this week Katy wrote to say that the stew was finished cooking and the carrots were soft and look - look! Two pictures and two songs. The first picture is full of excitement and small voices, of momentum and stable recollection. And the second image is still & tender; all the whimsy like a fur coat to shelter a rawer, sadder, and less certain spirit.
Thank you, Katy. -- Sean
Ryan Adams - "Let It Ride"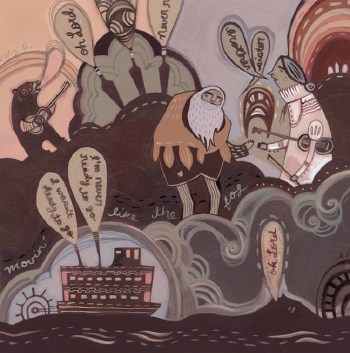 Katy Horan - "Let It Ride" (click for full size)
Gillian Welch - "Annabelle"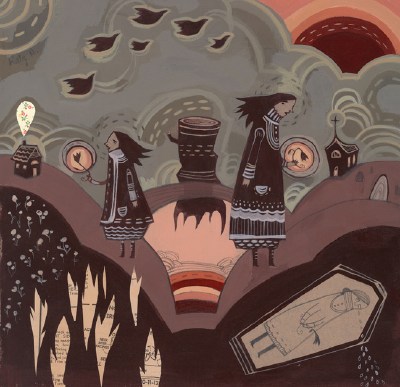 Katy Horan - "Annabelle" (click for full size)

[More of Katy Horan's art can be found on her website, or you can keep track of Katy-developments on her blog. Write to Katy at katy@katyart.com.]
(Previous guest-blogs, in and out of the Said the Guests series: artist Keith Andrew Shore, Owen Ashworth (Casiotone for the Painfully Alone), artist Kit Malo with Alden Penner (The Unicorns) 1 2, artist Rachell Sumpter, artist Katy Horan, David Barclay (The Diskettes), artist Drew Heffron, Carl Wilson, artist Tim Moore, Michael Nau (Page France), Devin Davis, Will Sheff (Okkervil River), Edward Droste (Grizzly Bear), Hello Saferide, Damon Krukowski (Damon & Naomi), Brian Michael Roff, Howard Bilerman (producer: Silver Mt. Zion, Arcade Fire, etc.). There are many more to come.)
Posted by Sean at March 15, 2006 3:00 AM