SAPPY TIMES III
by Sean
Please note: MP3s are only kept online for a short time, and if this entry is from more than a couple of weeks ago, the music probably won't be available to download any more.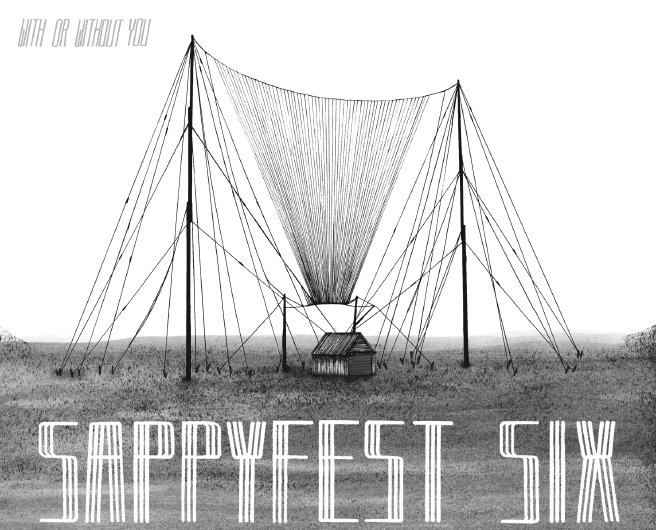 I've returned from SappyFest Six, probably the best SappyFest ever, the best festival I have attended in years, and I have to send out a loud shout to everyone in the world who has never attended this tiny three-day shindig in Sackville, NB (pop: 5,411): IT IS A TREASURE & EXTRAORDINARY & YOU NEED TO COME. I really mean this. Gentle, vivacious and stunningly curated, with thunderous moments and quiet moments and loving moments. Cheap food, good beer, activities & diversions. All at a scale that puts friendships first, intimacy over spectacle. On Saturday night we watched Charles Bradley and we all held hands, in our little tent.
At SappyFest I write SAPPY TIMES, a daily newspaper of the things I hear. SAPPY TIMES is distributed, on paper, throughout the SappyFest site. You can read about past years of the festival, and also about the festival generally, from my 2009 and 2010 posts. Here are this year's pages, written always between the hours of 11pm and 8am, and this year with marvelous meteorological reporting by Jeff Miller.
Saturday // Sunday // Monday (pdfs)

This year's festival highlights include: Owen Pallett & les Mouches and Arcade Fire's surprise performance (under the name Shark Attack), as documented in Saturday; John K Samson, Sandro Perri, Little Scream, Bonjay, Charles Bradley and the Menahan Street Band, as documented in Sunday; Drumheller, Pat Jordache, Shotgun Jimmie, Jim Bryson and Jerry Granelli, as documented in Monday.
If you've never been to Sappy, I'll say it again: it's so special and small and of exceptional quality. If you enjoy the kind of music I do, and the songs we do, you owe it to yourself to book a trip to the Canadian east coast. See some swans, some beautiful songs, then drive to the coast and swim in the sea.
And finally, a little awkwardly, if you run a festival or an event or a zeppelin race or anything like that, and you would like to bring me to where you are, to write something like the Sappy Times, I would always love to talk to you. This is my email address.
Posted by Sean at August 2, 2011 12:09 PM