SCAVENGING
Please note: MP3s are only kept online for a short time, and if this entry is from more than a couple of weeks ago, the music probably won't be available to download any more.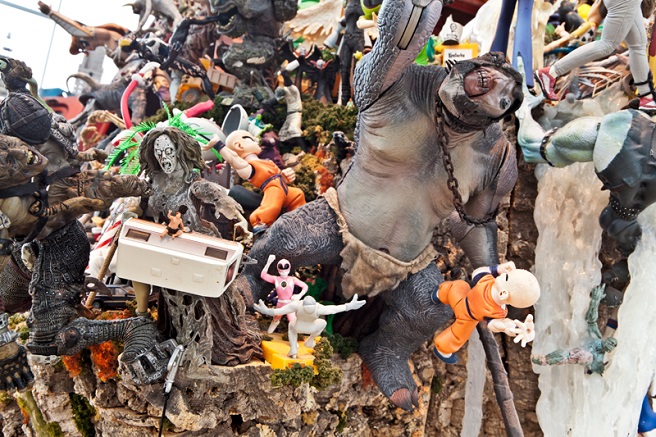 Tenement - "Feral Cat Tribe"
Tenement - "Hive of Hives"
Tenement - "I'm Your Super Glue"
Before his grandfather got sick, Doug had to do the rounds with him every garbage day. At first when his grandfather stopped his tiny car on the side of the road, Doug stayed in the passenger seat, reading a comic book as the old man efficiently worked through the pile.
"I can use this to fix that broken toaster!" He held up a spring for Doug to see. "This will come in handy," he said, picking up a piece of sheet metal.
Doug was twelve and embarrassed, worried a kid from school might see him. He was there in case his grandfather needed help getting something heavy into the car. Lifting wasn't good for his bad heart. "It could just go in a second. Pow, that's it," Doug's mom told him.

"This is the golden age of junk," his grandfather said one day, while rummaging through a big pile - the contents of a whole house put out on the front curb. "I grew up in the Depression. No one threw anything out. Everything had to be used six or seven times. People wore rags!"

That was also the day his grandfather first got Doug's attention, coaxing him out of the car with the question "I guess you don't want any of these, eh?" He held up a few old comic books.

There was a whole crate of comics from the seventies and Doug eagerly gathered them up. After that, he started looking through the piles at his grandfather's side, picking up stray parts and figuring out what they could be used for.
Later, with his grandfather gone, Doug spent most of his summer days in the old garage behind the house. Everything was in there: a wall of broken TVs, five lawnmowers, sprockets, ratchet sets, and teacups of fine bone china. Doug liked the smell of the place, musty and oily, and the quiet. He sat in his grandfather's easy chair, drinking a pop, and dreaming about what he was going to do with his inheritance.
[buy Predatory Headlights]
(Kim Adams, "Bruegel Bosch Bus" (detail), image source)

Posted by Jeff at July 14, 2015 11:37 AM