SEAN TALKS ABOUT LAST SATURDAY
by Sean
Please note: MP3s are only kept online for a short time, and if this entry is from more than a couple of weeks ago, the music probably won't be available to download any more.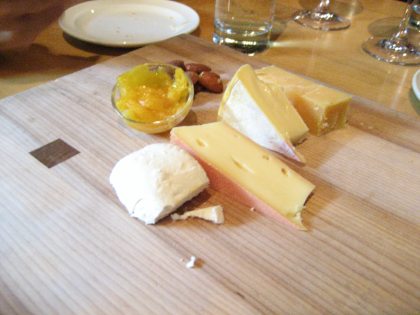 Hiran'ny Tanoran'ny Ntao Lo - "Oay Lahy E! (O! Dear Friend!)" [buy]
Dan Beirne, Jordan Himelfarb and I are friends, but we are not lovers. We have never been on dates (with each other). We have high-fived and embraced - like bears, with grunts, and sparkle-eyes, and berries in fur, - but never, no, have we, like, made out. Or had we gone out to dinner. But on Saturday, August 18th, 2007, Dan, Jordan and I went out to dinner. Just the three of us, just the Gramophone trio, cozied up at a restaurant called La Montée de Lait, gorging ourselves on a meal - and a bottle of wine - paid for by some of you.
That night, we drank a toast - "To us!" - but we were being wry and backward-bashful, because really we meant: "To you!"
We had such a grand time. I don't know why we hadn't done it before. Dan showed up late, but wearing a tie. Jordan was wearing a hat. I had a large, framed etching of an iced-over river. We let the waiter (who might have been the owner) choose the wine. He chose something from Italy. Jordan's father is the Canadian ambassador to Italy, but we did not mention this. Jordan tasted the wine and: it was good.
Each of us chose four dishes. Let me repeat this: Each of us chose four dishes. This is how things work at La Montée de Lait. La Montée de Lait is a paradise. A couple of us had thin, raw-fresh slices of tuna. A couple of us had "Mac & Cheese", which did not include a single macaronus. A couple of us shared a cheese plate. One of us had a poached peach. One of us had some amazing chicken thing. One of us had something in bacon broth. Oh yes, readers, 'twas high & low cuisine at the Gramophone Dinner, and delight was a-dancing upon our tongues. Like fireflies on our tongues! Mouthfuls of fireflies! And did I mention the wine!
So we ate, we made merry. We talked about our lives, and our friendships, and about music and the internet, and about girls. We talked Business, and we talked dirty. (Jordan is the most lewd of us, Dan the middle-man, and I am a pure-as-linen monk.) We called the restaurant "Cheese Mountain". We ate almonds. They kept refilling our dish of bread. Did I mention that the wine list came in its own box? It did! And on two occasions the knives they gave us were ivory handled, like an adventurer's antique switchblade, and we imagined skinning zebras in the steppe.
The night would have been perfect if Hiran'ny Tanoran'ny Ntao Lo were there too, crouched around us in the dust, drinking a fine Chianti and singing an ode to us, to you, and to friends-in-general. There are several ways to communicate sincerity, in song: a particular kind of inflection, a thickness of voice, tears. The Hiran'ny Tanoran'ny Ntao Lo remind me of another way: to speak many syllables, rapidly, energetically, but without panic. Last Saturday night we were doing this, the three of us, and it feels good to hear the same thing in "Oay Lahy E". It feels good to know that others know the pleasure of dear friends, of O! Dear Friends, of birds of a fine fellow feather.
Thank you again for giving us the chance to be reminded of this.
Jay Reatard - "All Over Again" [buy]
BUT NOW IT'S A WEEK LATER AND IT'S BACK TO THE GRINDSTONE.
Posted by Sean at August 27, 2007 1:07 AM